Appearing on CNN, the man behind the undercover Planned Parenthood videos was asked if he is a "violent extremist."
"David,  your critics, critics of your organization I should say, say that you're not journalists as you purport to be on your website, but rather you're violent extremists," host Alisyn Camerota told David Daleiden. "They say that you are operating under the guise of investigative reporting, but really you're trying to shut down all Planned Parenthoods and women's access to things like birth control and other services that they provide."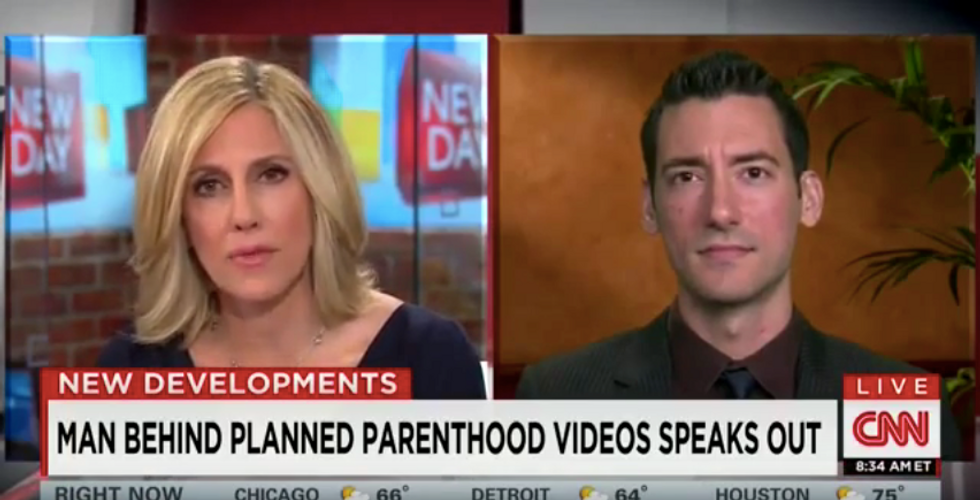 Image source: CNN via YouTube
Camerota then asked Daleiden, project lead of the Center for Medical Progress, whether he or his organization has any ties to Operation Rescue. The Center for Medical Progress has been behind the release of a series of edited videos that purport to show Planned Parenthood officials discussing the sale of aborted fetal tissue for research.
"So a couple of things there, first, number one, I'm not a violent person, and I never have been, and I never will be," Daleiden said. He started to say that Troy Newman is one of the board members for the Center for Medical Progress but was cut off by Camerota.
" — and Troy Newman is the president of Operation Rescue that does have, I mean, Operation Rescue does have a history of threatening violence against abortion clinics," Camerota said.
Daleiden responded by saying he didn't think her allegations were "true at all" and encouraged her to talk to Newman, the anti-abortion activist, himself about his Operation Rescue organization.
"Ultimately the two-and-a-half-year-long investigative journalism study that the Center for Medical Progress conducted about Planned Parenthood's sale of fetal tissue, ultimately that's about exposing to the public the reality of how Planned Parenthood conducts their fetal tissue sales and what their relationship with companies like StemExpress is like," Daleiden said. "It's not an issue of the rest of Planned Parenthood's services or whether or not those are a good thing; it's specifically about showing the public exactly how those sales work and documenting those in a way that everybody can see."
Mediaite noted that Camerota possibly confused Operation Rescue with Operation Save America — formally called Operation Rescue West — which is a more radical organization and not run by Newman.
Watch the exchange below: