Secretary of State John Kerry said the U.S. would be "screwing" Iran if Congress rejects the international nuclear deal reached last month.
In an interview with the Atlantic's Jeffrey Goldberg, Kerry said that Iranian Foreign Minister Javad Zarif and Iranian President Hassan Rouhani told him they would engage with the U.S. on regional issues if Congress approves the plan.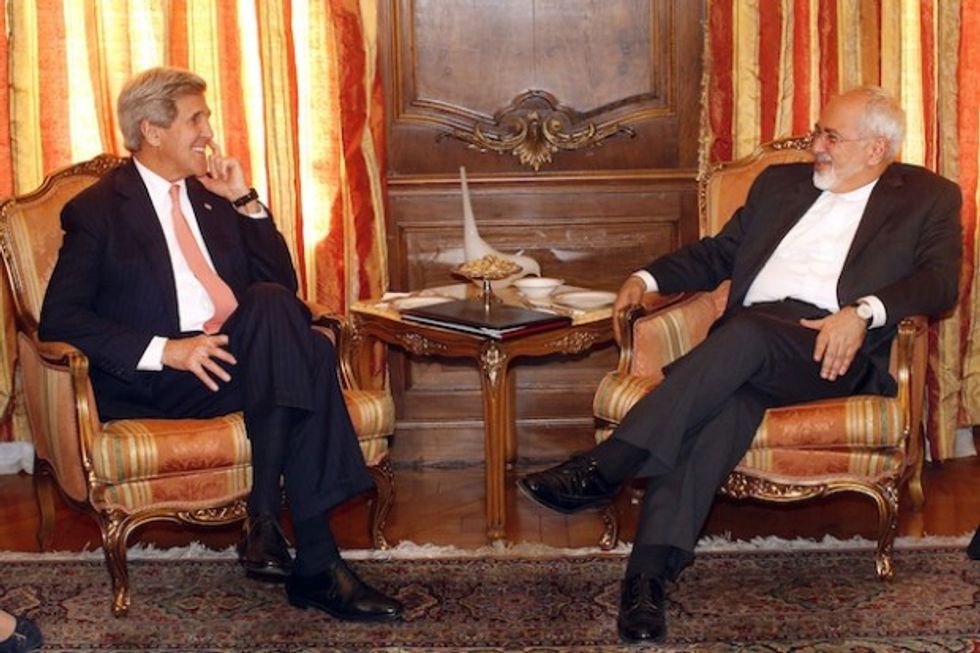 Secretary of State John Kerry meets with Iranian Foreign Minister Javad Zarif at the United Nations, April 27, 2015, in New York City. (Jason DeCrow-Pool/Getty Images)
"The Ayatollah constantly believed that we are untrustworthy, that you can't negotiate with us, that we will screw them," Kerry said. "This will be the ultimate screwing."
Kerry went on to say that if Congress rejects the agreement, it would "prove the Ayatollah's suspicion" and warned that he would not come back to the negotiating table if the U.S. does not hold up its end of the deal.
"Out of dignity, out of a suspicion that you can't trust America. America is not going to negotiate in good faith. It didn't negotiate in good faith now, would be his point," Kerry told the Atlantic.
Despite the secretary of state's strong statements, the historic negotiation is still drawing fierce and almost constant criticism from both Republican and Democratic lawmakers in Washington, where chief among those criticisms is the belief that the deal would allow for Iran to develop a nuclear weapon and launch a nuclear attack on Israel, America's strongest ally in the region.
But Kerry vowed the agreement is just the opposite of what critics are claiming.
"I've gone through this backwards and forwards a hundred times and I'm telling you, this deal is as pro-Israel, as pro-Israel's security, as it gets," he said. "And I believe that just saying no to this is, in fact, reckless."
The agreement allows 60 days for Congress to either approve or reject what could be President Barack Obama's most significant foreign policy achievement.
Obama was scheduled to deliver a speech at American University in the nation's capital Wednesday in what officials are likening to John F. Kennedy's pitch for a nuclear treaty with the former Soviet Union in 1963, the Washington Post reported.
(H/T: Atlantic)
–
Follow Jon Street (@JonStreet) on Twitter