A Houston Planned Parenthood is under criminal investigation on the heels of an undercover video shot at the facility that purports to show an official graphically discussing the sale of aborted fetal tissue, KHOU-TV reported.
The fifth in a series of controversial undercover videos was recorded at the Gulf Coast Planned Parenthood Center and then released Tuesday by the anti-abortion group Center for Medical Progress.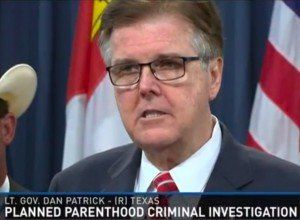 Image source: KHOU-TV
Texas Lt. Gov. Dan Patrick (R) said he called for the criminal investigation. "The people of Texas will not accept this callous attitude toward human life, and I will not accept it."
The clip features research director Melissa Farrell discussing how tissue buyers could obtain "intact fetal cadavers."
"So, if we alter our process and we are able to obtain intact fetal cadavers, then we can make it part of the budget that any dissections are this, and splitting the specimens into different shipments is this," she said. "I mean that's — it's all just a matter of line items."
Republican Gov. Greg Abbott — who called the new clip "repulsive and unconscionable" — and Attorney General Ken Paxton announced separate investigations into Planned Parenthood last week after the release of the first videos.
Harris County District Attorney Devon Anderson said the new video "has obviously been edited and they've got words in there, they've chopped it up. So we need to see it from beginning to end, to make sure we know the context of all the statements that have been made, and that'll be the starting place for the investigation."
Anderson has asked the homicide unit of the Houston Police as well as the Texas Rangers to help investigate, KHOU reported.
In addition to contending the undercover videos are heavily edited, Planned Parenthood officials countered that clinics may donate fetal tissue for medical research with patients' permission and that researchers may reimburse the organization for costs incurred, but profits aren't made.
"Extremists who oppose Planned Parenthood's mission and services are making outrageous and completely false claims. They are engaged in a fraud, and other claims they've made have been discredited and disproven," Planned Parenthood said in a statement Tuesday. "The footage released today doesn't show Planned Parenthood staff engaged in any wrongdoing or agreeing to violate any legal or medical standards. Instead, the latest tape shows an extremely offensive intrusion and lack of respect for women, with footage of medical tissue in a lab. These extremists show a total lack of compassion and dignity for women's most personal medical decisions."
—
Follow Dave Urbanski (@DaveVUrbanski) on Twitter