Real-estate billionaire Donald Trump scolded Chris Wallace during Thursday's GOP debate when the Fox News host pressed him on the past bankruptcies of some of his companies.
"Mr. Trump, you talk a lot about how you are the person on this stage to grow the economy. I want to ask you about your business record. Trump Corporations, casinos and hotels, have declared bankruptcy four times over the last quarter-century," Wallace said. "In 2011 you told Forbes Magazine this: 'I've used the laws of the country to my advantage.' But at the same time financial experts involved in those bankruptcies say that lenders to your companies lost billions of dollars."
"Question sir, with that record, why should we trust you to run our nation's business?" Wallace asked.
Trump replied saying he has "used the laws of this country" to "do a great job for my company, for myself, for my employees, for my family, etcetera."
"I have never gone bankrupt by the way. I have never," Trump added.
"But sir, that's your line, but your companies have gone bankrupt," Wallace interjected.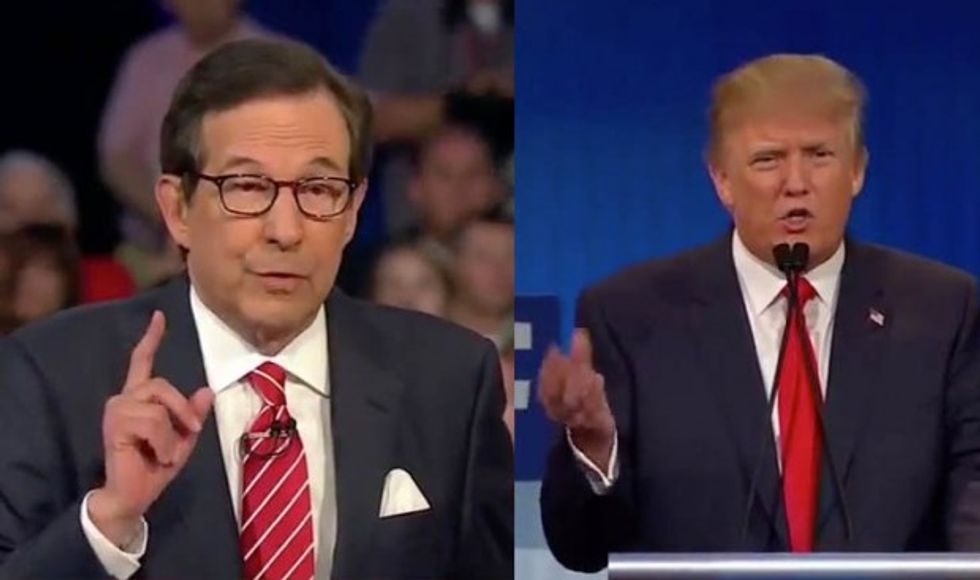 Image source: Fox News / TheBlaze
"What am I saying?" Trump rhetorically asked, noting that other businessmen have taken advantage of similar laws.
Wallace then brought up "the latest example" of a Trump company that went bankrupt, saying more than 1,000 were laid off and a billion dollars was lost by lenders.
"Let me tell you about the lenders. First of all, these lenders aren't babies. They're total killers. These are not the nice sweet little people that you think. Okay? You're living in the world of the make believe," Trump told Wallace.
—
Follow the author of this story on Twitter and Facebook: