A combative Senator Marco Rubio (R-Fla.) defended his stance on abortion when pressed by CNN host Chris Cuomo on a claim the presidential candidate made during the GOP debate on Thursday.
Rubio pushed back against Megyn Kelly during the debate when she suggested that he supports abortion in the case of incest and to protect the life of the mother. The senator argued that he has never advocated for the exceptions.
On Friday's "New Day," Cuomo confronted Rubio on the issue, reminding him that he once supported an anti-abortion bill that "did have a carve-out for rape and incest."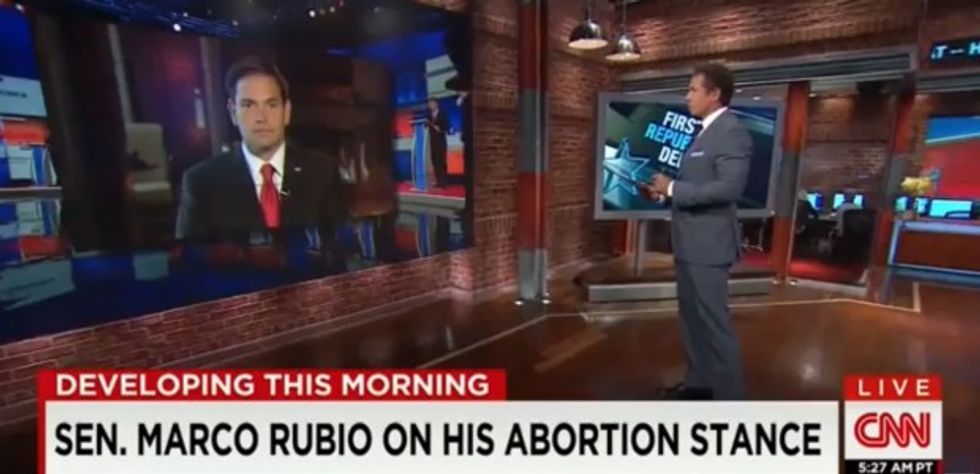 CNN
"It seems that you had your own record wrong," the host said. "Is that something you want to correct this morning?"
"That's not true," Rubio shot back. "Everybody supported that bill. Every single pro-life senator, every single pro-life group…supported the bill you were just talking about because it prevents abortions."
Rubio went on to make an analogy, saying he supports a 20-week abortion ban, but would still vote for a 19-week abortion ban if it prevented abortions from occurring.
"I don't think it's an analogy," Cuomo pressed. "But the bill did have that carve-out and you said you've never been near it."
"No, because you're wrong," Rubio replied. "No, I didn't say that. I said I never advocated for that…I never said that I will only support a bill that has an exception in it. But I will support bills that has exceptions in it because they prevent abortions. I am here to save as many of those unborn children's lives as possible."
Cuomo then argued that Rubio's clarified abortion position seemed to be "backward-looking" on the rape and incest exceptions.
"First, I think both of those instances are horrifying," Rubio responded. "Any time it happens, it's horrifying, it's a tragedy. But I personally and honestly and deeply believe that all human life is worthy of protection -- irrespective of the circumstances in which that human life was created. I personally believe that you do not correct one tragedy with a second tragedy."
Watch the interview via CNN below:
(H/T: Mediaite)
---