While the parched western United States might look to the El Nino phenomenon as the "great wet hope," NASA climate scientist Bill Patzert said the conditions are starting to look similar to those that developed nearly two decades ago and caused "mayhem."
NASA's Earth Observatory in a recent blog post described how El Nino conditions have strengthened since March, when scientists thought it looked rather weak. Now, they're predicting something that could be like 1997-98.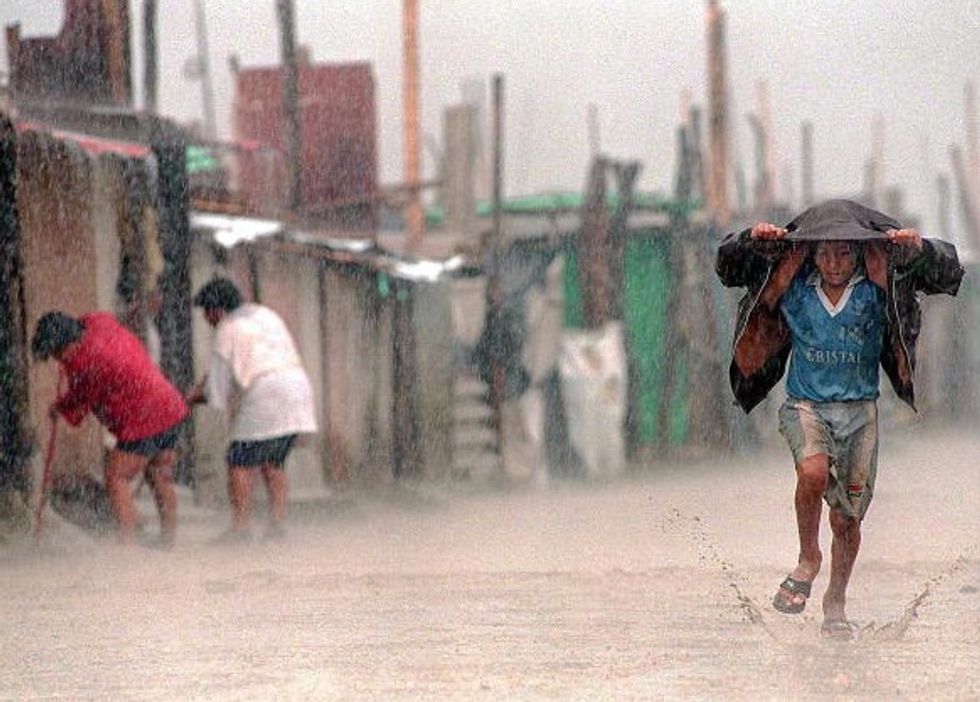 A child shields himself from torrential rains with his jacket as he runs through a flooded dirt street while local residents (L) sweep mud and water out of their shacks in the town of Tuman, 820Km north of Lima, 17 March. Health authorities report that the flooding caused by the meteorological phenomenon 'El Nino' has exacerbated poor sanitary conditions in the poorest parts of Peru, provoking outbreaks of cholera, malaria, dysentery and conjunctivitis. (JAIME RAZURI/AFP/Getty Images)
El Nino is a warm phase of surface temperatures in the Pacific Ocean near the equator driven by the El Nino Southern Oscillation. La Nina, conversely, is characterized by a cooler phase. El Nino results in more rainfall in the southern U.S. and into Peru, while it can drive drought in the Western Pacific, according to the National Oceanic and Atmospheric Administration.
"We have not seen a signal like this in the tropical Pacific since 1997," Patzert with the agency's Jet Propulsion Laboratory told NASA's Earth Observatory. "It's no sure bet that we will have a strong El Nino, but the signal is getting stronger. What happens in August through October should make or break this event."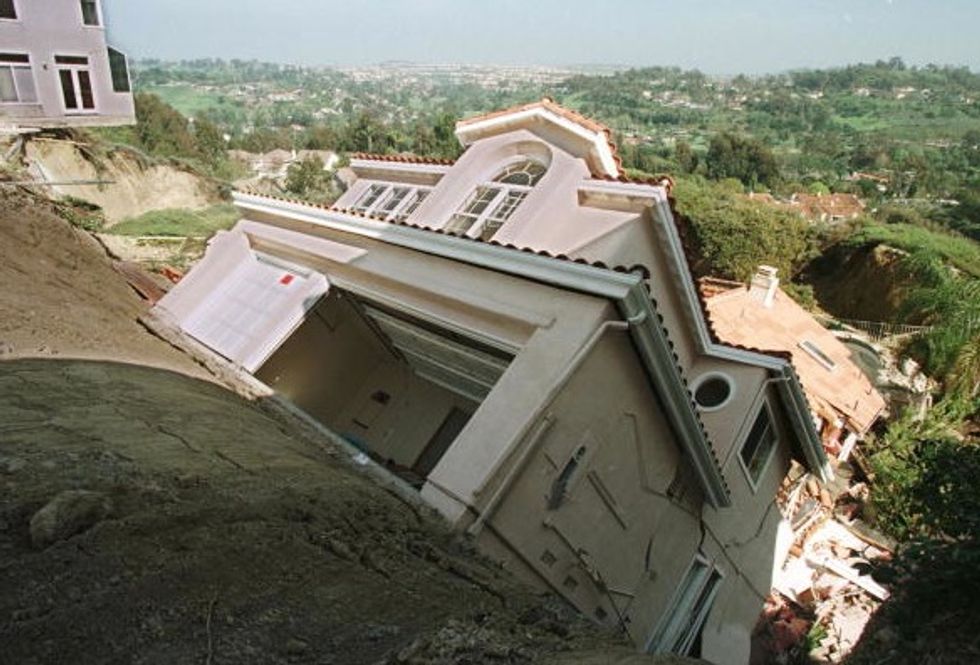 A luxury home in the Orange County suburb of Laguna Niguel slips down a hillside 19 March eroded by heavy El Nino generated rains earlier in the month. Two homes and seven condominiums have been destroyed in the slide and several more are threaten with destruction. More rains are expected early next week. (Vince Bucci/AFP/Getty Images)
According to the NOAA, there's a 90 percent chance at this point that El Nino will continue through the winter and an 80 percent chance it will continue into early spring of 2016.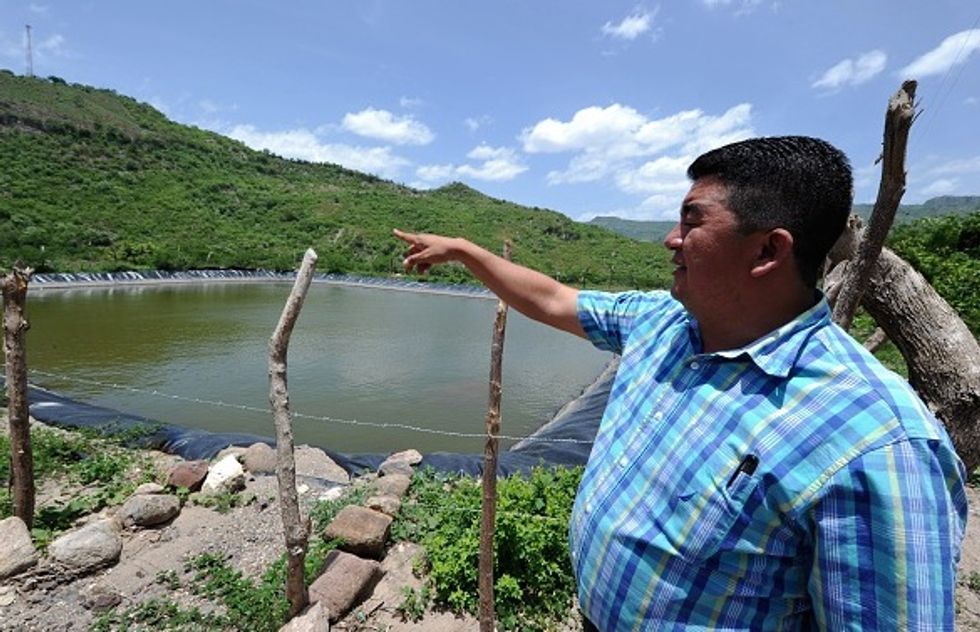 The mayor of the municipality of Texiguat, Lindolfo Campos, inspects the loses caused by the drought, about 100 km southeast of Tegucigalpa, on July 26, 2015. Honduras has been hit by a major drought caused by 'El Nino' climate phenomenon, a band of unusually warm Pacific ocean temperatures, which in the past has been linked to numerous floods, droughts and bush fires from South America to Australia. The drought has killed thousands of cattle and dried up crops. (ORLANDO SIERRA/AFP/Getty Images)
"This El Niño is getting billed as the 'great wet hope,'" he added. "Many people in the American West are looking to El Nino to save them from drought."
But he said "1997 was mayhem."
This El Nino event nearly two decades ago was so impactful, a study last year found that it actually was correlated with people growing to a shorter stature in Peru for some time afterward.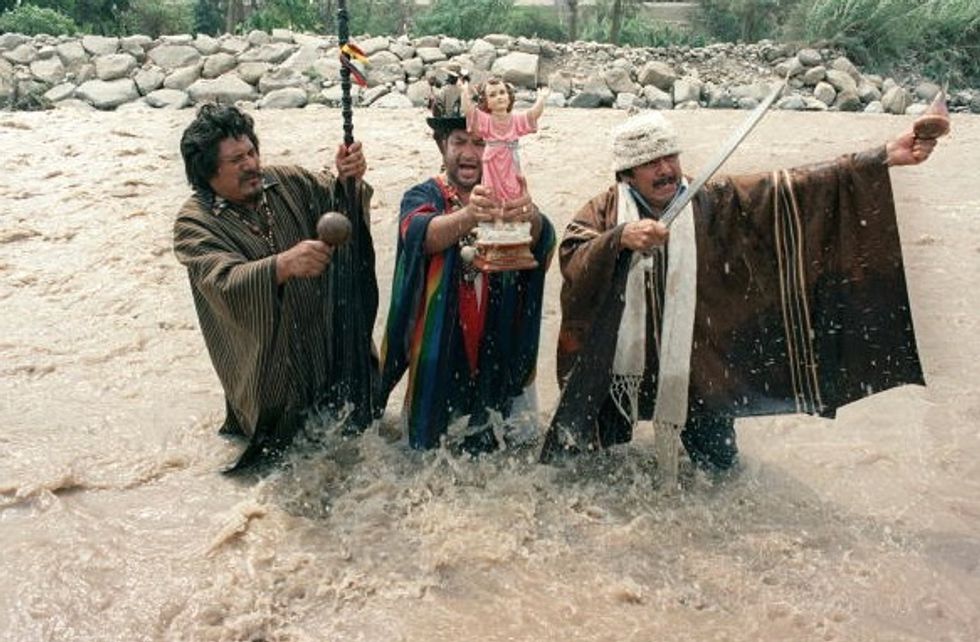 Peruvian shamans, carrying religious figures and traditional healing instruments, stand in the Rimac River in Nana, Peru, 19kms southeast of Lima, 01 April 1998. The shamans chanted to invoke the spirits to put an end to the El Nino weather phenomenon. (EDUARDO VERDUGO/AFP/Getty Images)
Watch NASA's animation: