Donald Trump's invitation to speak Saturday at the RedState gathering was rescinded late-Friday by editor Erick Erickson as a result of the real estate tycoon's "inappropriate" comment about Fox News host Megyn Kelly.
Instead, Kelly was invited to take his place.
In a post published online, Erickson explained that he has "tried to give a great deal of latitude to Donald Trump in his run for the Presidency."
The RedState editor acknowledged that Trump is a "blunt talker" and thus "connects" with a large part of the Republican base. But he said that "there are even lines blunt talkers and unprofessional politicians should not cross."
"Decency is one of those lines," Erickson wrote. "As much as I do personally like Donald Trump, his comment about Megyn Kelly on CNN is a bridge too far for me."
Erick Erickson: I don't think I should have anyone on stage while my wife and daughter are watching who'd say that to a female journalist.

— Ben Jacobs (@Ben Jacobs)1439008962.0
The decision came after Trump, who was unhappy with the questions Kelly asked him during Thursday's GOP debate, blasted the Fox News host with a shock insult Friday night.
"You could see there was blood coming out of her eyes. Blood coming out of her — wherever," Trump told CNN Friday evening.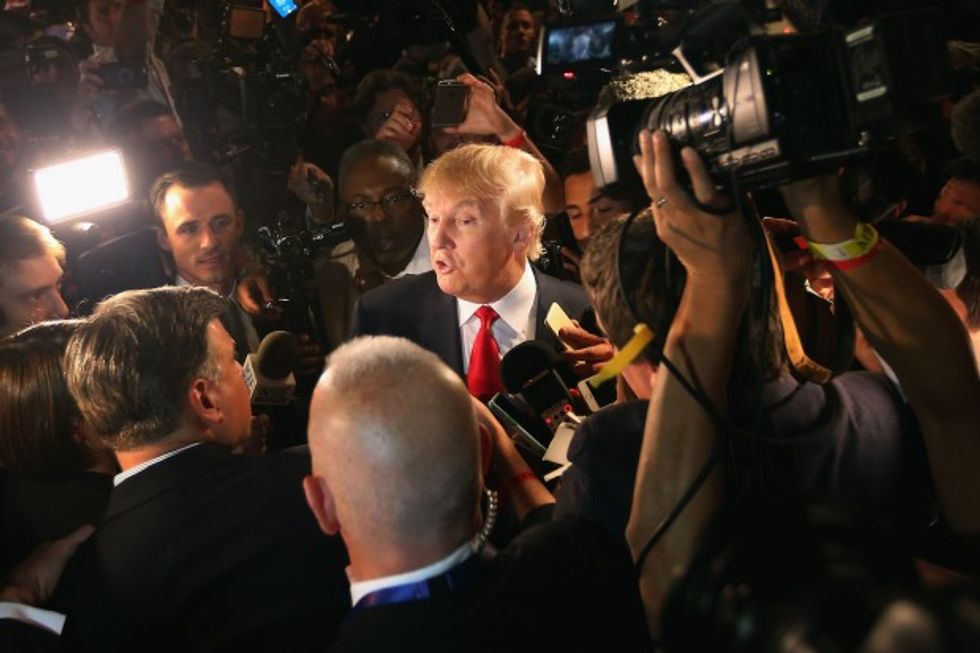 (Photo by Scott Olson/Getty Images)
Erickson wrote, "His comment was inappropriate. It is unfortunate to have to disinvite him. But I just don't want someone on stage who gets a hostile question from a lady and his first inclination is to imply it was hormonal. It just was wrong."
The RedState editor added that while he had asked Kelly to take Trump's place, he was not sure she would be able to make it since it was a last minute invite.
A spokesperson for the Trump campaign did not immediately respond to a request for comment from TheBlaze.
In a statement to The Guardian, however, a Trump campaign spokesperson blasted Erickson.
"This is just another example of weakness through being politically correct. For all of the people who were looking forward to Mr. Trump coming, we will miss you. Blame Erick Erickson, your weak and pathetic leader. We'll now be doing another campaign stop at another location," the spokesperson said.
Erickson was not the only person to go after Trump for his Friday remark against Kelly. Presidential hopeful Carly Fiorina tweeted that it was over the line and said she stood with Kelly.
—
Follow the author of this story on Twitter and Facebook: