Approximately 23 arrests were made in Ferguson, Missouri, Monday night as tensions continued to flare in the St. Louis suburb following the one-year anniversary of Michael Brown's death.
For the second continuous night, black lives matter protesters flooded the streets in protest of perceived racial injustice and police abuse.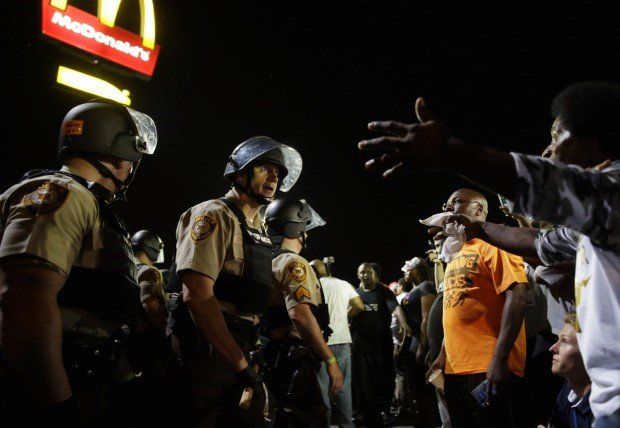 Officers and protesters face off along West Florissant Avenue, Monday, Aug. 10, 2015, in Ferguson, Mo. Ferguson was a community on edge again Monday, a day after a protest marking the anniversary of Michael Brown's death was punctuated with gunshots. (AP Photo/Jeff Roberson)
As demonstrations continued deeper into the night, the St. Louis County Police Department said unruly protesters became violent and began hurling objects at officers.
Eventually, the protest was declared an unlawful assembly and officers issued dispersal orders warning that those who failed to comply would be subject to arrest.
Shortly after midnight, the arrest total stood at nine, police said. That total later increased to "approximately 23."
This story has been updated with new information.
—
Follow the author of this story on Twitter and Facebook: