Former Florida Gov. Jeb Bush talked about one of his biggest political liabilities among conservative voters — Common Core — by saying he doesn't even know what it means any more.
During his appearance at the Iowa State Fair Friday, Bush mentioned "education reform" several times during the "Soapbox" speech event sponsored by the Des Moines Register. But during the question-and-answer segment, Bush was asked specifically about the controversial Common Core standards, which Bush has strongly defended.
"Common Core? I support higher standards," Bush said. "The term Common Core is so darn poisonous, I don't even know what it means. So here's what I'm for. I'm for higher standards – state-created, locally implemented, where the federal government has no role in the standards, content or curriculum."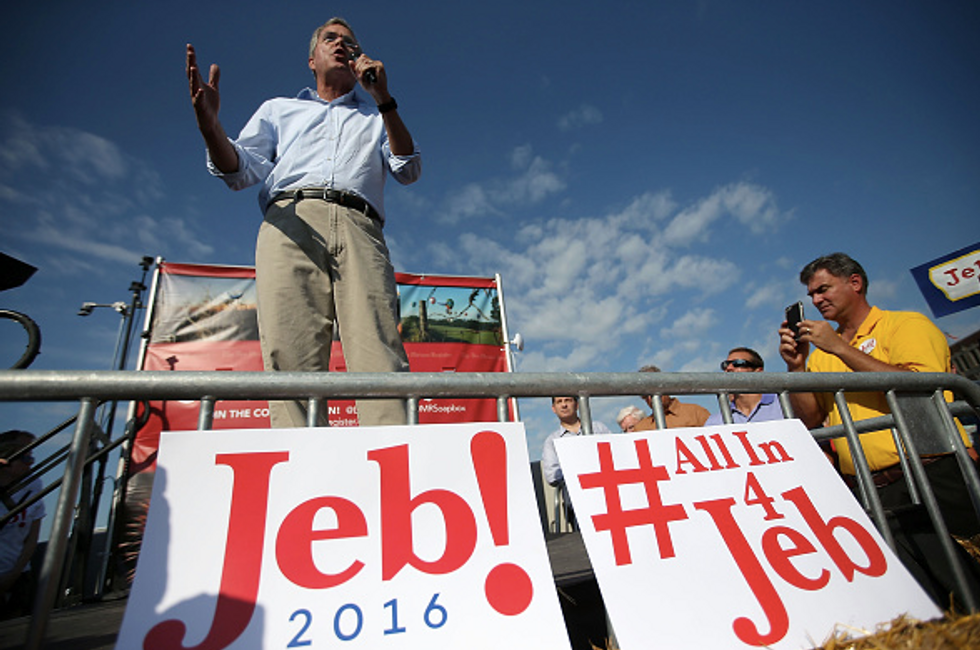 Republican presidential hopeful and former Florida Gov. Jeb Bush speaks to fairgoers during the Iowa State Fair on August 14, 2015 in Des Moines, Iowa. Presidential candidates are addressing attendees at the Iowa State Fair on the Des Moines Register Presidential Soapbox stage. The State Fair runs through August 23. (Justin Sullivan/Getty Images)
He continued, "The federal government should have no say in that. If it's not changed by law, I will do it by executive order when I am president of the United States."
Bush has previously been unwavering on the standards, even the terminology. In November 2014, he told an audience in Washington, "In my view, the rigor of the Common Core State Standards must be the new minimum in classrooms."
Bush also talked about a number of other issues during his remarks at the fair, one of the biggest political events in the state leading up to the nation's first presidential nominating contest in 2016. Eighteen candidates are scheduled to speak over the 11-day fair.
Though he has been a leading candidate in national polls, in New Hampshire and in fundraising, Bush is currently in the middle of the pack in Iowa.
Speaking to Iowans Friday, Bush called himself "a conservative with a record of reform," but added, "We need to build a bipartisan consensus to solve problems."
Bush is the brother and son of former presidents, and his family has a mixed record in the Iowa caucuses. George W. Bush won handily in 2000, while George H.W. Bush lost Iowa to Bob Dole in 1988.
Bush criticized the Obama administration and former Secretary of State Hillary Clinton, a Democratic presidential candidate, for their handling of the Middle East, and the rise of the Islamic State.
Bush also took a shot at Clinton over her email scandal, without mentioning her by name.
"My email address, write it down and send me your thought – Jeb@Jeb.org," he said in response to a question. "By the way, I just gave out my email address. That's exactly what I did when I was governor of the state of Florida. I released all my emails. I'm writing an e-book about my emails. I think we need a lot more transparency in politics today."