On any given day you can find Tom Weller driving up and down the highways around San Diego, California, looking for cars stranded on the side of the road. The locals call him, the Highway Man. For the past 49 years, Weller has been helping people, and he does it all for free.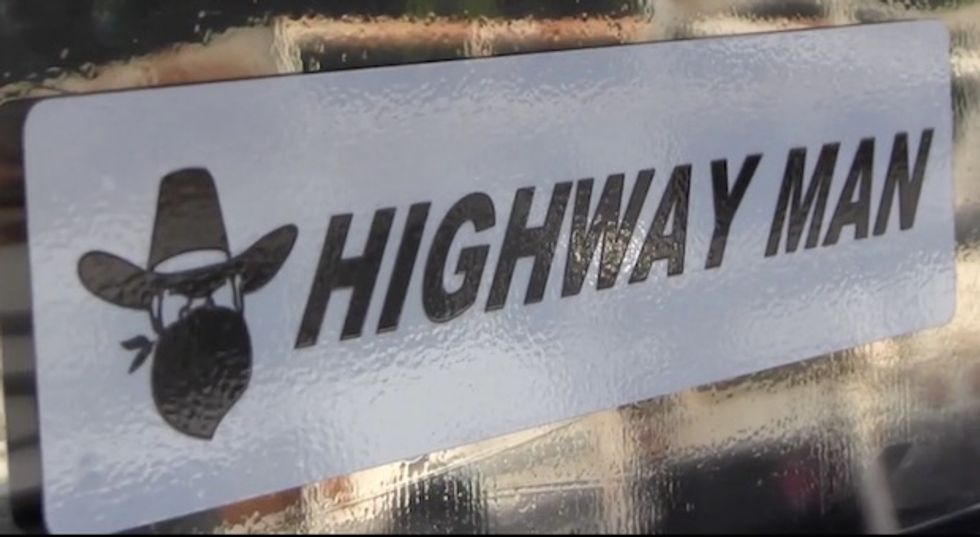 Image source: YouTube
Inspired by his own experience, Weller started his mission to help stranded motorists almost fifty years ago.
When he was just 16-years old and driving on a snowy Illinois highway in the middle of a blizzard, Weller's car swerved off the road and into a snow bank. He was trapped in the snow for hours until a total stranger pulled his car out. The Good Samaritan would not accept any money, telling Weller to "pass it on."
He's been doing just that for almost 50 years.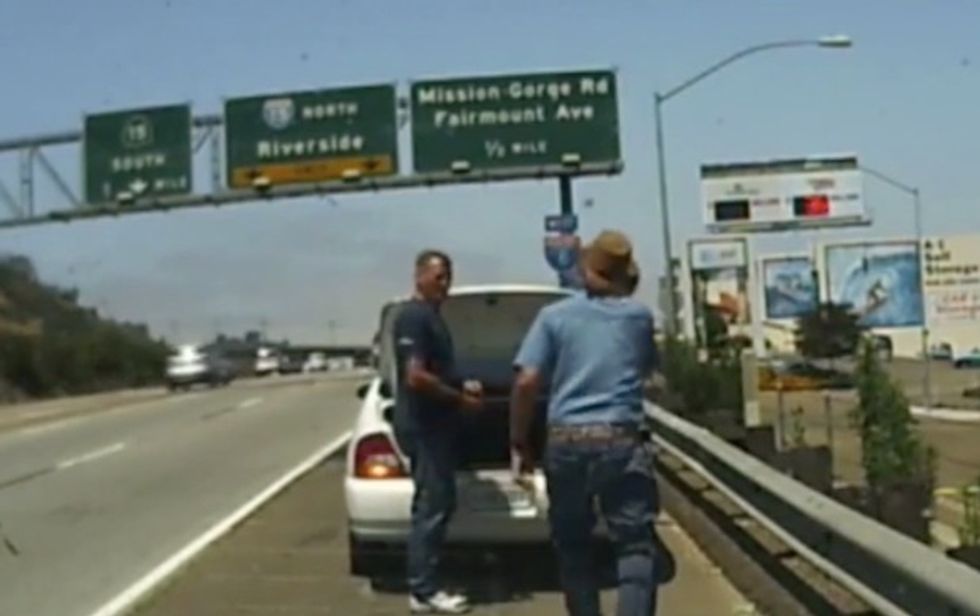 Image source: YouTube
Starting in 1966, Weller would take to the roads twice a day, looking for people in need. Like the man who rescued him decades ago, the Highwayman accepts no money from those he assists.
Instead, he hands them a card reading, "Assisting you has been my pleasure. I ask for no payment other than for you to pass on the favor by helping someone in distress that you may encounter."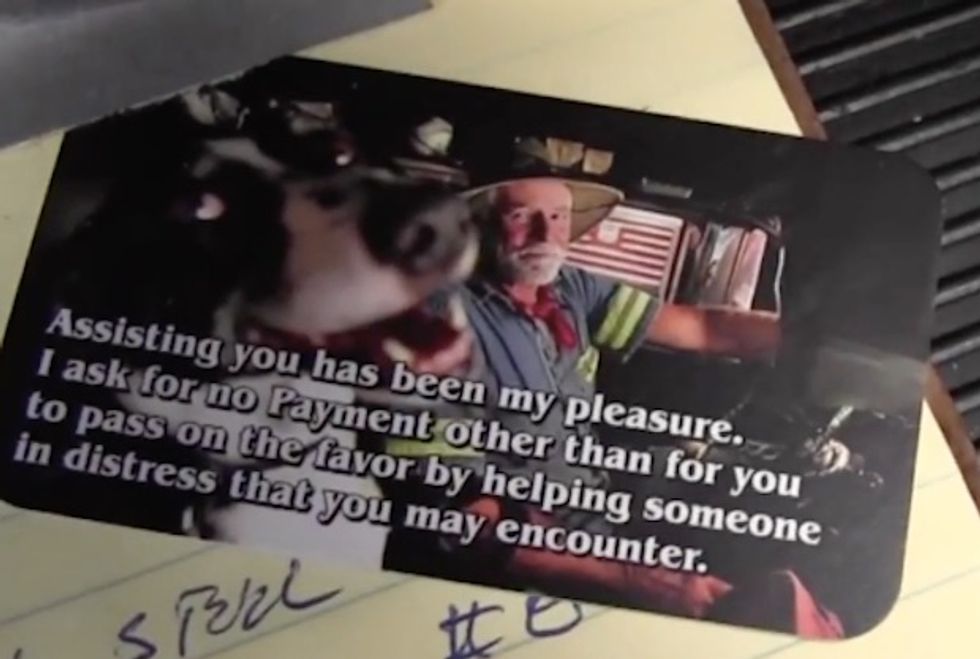 Image source: YouTube
For decades, Weller's vehicle of choice was, Beulah, a 1955 Ford he rescued from the junkyard for $35 and customized to carry his rescue tools.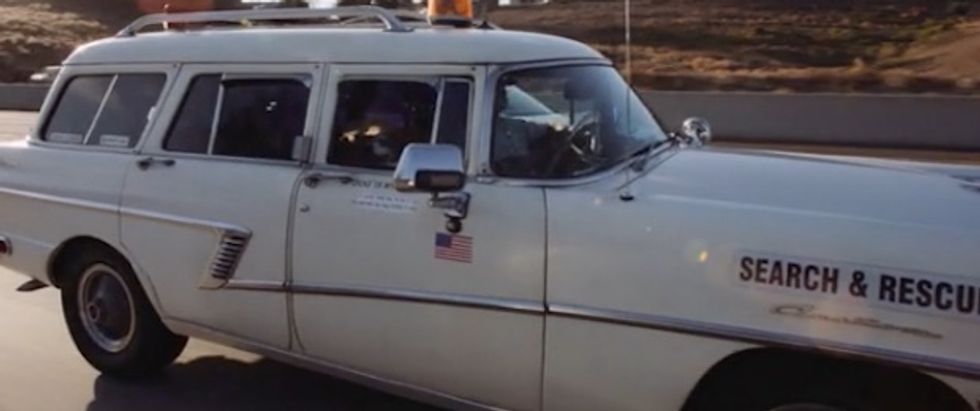 Image source: GoFundMe
Unfortunately, in 2011, Beulah was involved in a wreck and has been sitting in Weller's garage. The Highway Man had to make do with a back-up vehicle while he looked to find a way to get his beloved Beulah back on the road.
In December of 2014, a GoFundMe campaign was started to benefit Beulah's rehabilitation. With hopes of sparking interest in the fund, radio talk radio host Mike Slater invited Weller onto his show in March of this year.
Slater told TheBlaze, "I opened the phones to see if anyone has ever been helped by the Highway Man. About 10 people called in right then to tell their stories, 'I was late to work and stuck on the side of the road, but Highway man was there to fill up my tank! He refused to accept any money.' Stuff like that."
And then, a special call came through. Slater explains, "Rick called in and said he'd fix it all himself. With his own money."
Rick Moore was the man on the other end of the line. He is a local who knew about the Highway Man and had also witnessed a deadly roadside tragedy with his sons. Moore wanted to help get Weller and Beulah back on the road.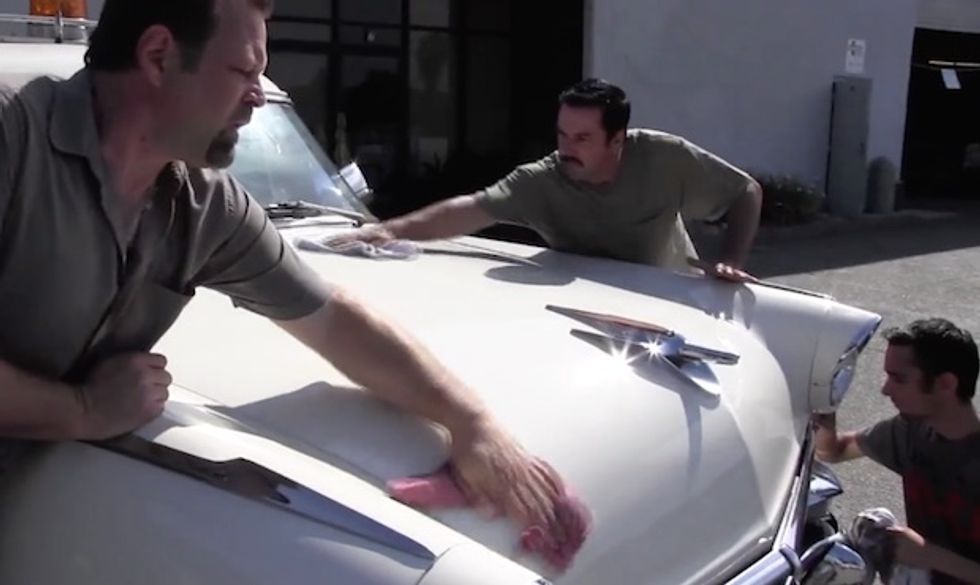 Image source: YouTube
Rick Moore and his two sons worked together on the project, spending four months and a reported $18,000 getting Beulah ready for the road. The extensive rebuild included an engine overhaul, a paint job and some extensive rewiring of the 60-year-old car.
When it came time to reunite Beulah with the Highway Man, Slater and local news crews were on the scene.
A misty-eyed Weller hugged Moore and his sons, calling them "angels."
The GoFundMe project has collected just over $12,000. Those funds will be used to keep Beulah running in tiptop shape and gassed up for the Highway Man.
Watch the mini-documentary from Slater's radio show:
Editor's note: This post was corrected to fix a typographical error.
--
Follow Mike Opelka (@Stuntbrain) on Twitter.