MSNBC's Mika Brzezinski, definitely no fan or ally of Republicans, forcefully called out columnist Eugene Robinson on Friday morning when he tried to dismiss the Hillary Clinton email scandal as a "great preview of what we're going to hear in the fall" from GOP candidates.
"Whoa, whoa, whoa," Brzezinski interrupted. "Even I'm saying that."
"Morning Joe" co-host then told Robinson that he has spoken to "a guy who votes Democratic" and is a top intel agency official and the official said it's clear procedure has been ignored by some government officials.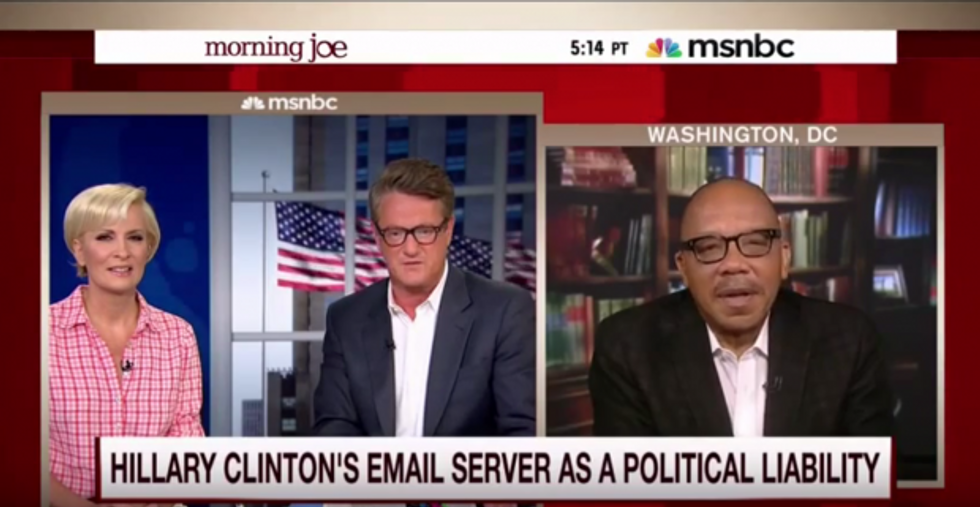 MSNBC
"Are you not concerned that procedure for protecting classified information has been ignored for months?" Scarborough asked.
"Well, yeah," Robinson admitted. "What I think is concerning about the Hillary Clinton story…is why did she set up her own private email server in her house. I think it's clear that there was an intent there to keep in her hands, in her possession, communications that more properly belonged to the U.S. government."
But Brzezinski kept pushing, telling Robinson, "I just think that you took 20 seconds to say something that we knew a whole lot about a long time ago."
"What Joe is talking about now is all those people now around this who aren't really doing their job. And if she did that, isn't that a problem? And we know she did that. It was scrubbed," she added. "Let's not pretend the truth doesn't exist, and let's not hedge around it because we're frightened."
Watch the clip via MSNBC below:
---