Some Los Angeles police officers apparently aren't thrilled about the theatrical release of "Straight Outta Compton," a biopic about legendary gangsta rap group N.W.A.
TMZ reported that officers, who weren't named, told the site that the movie reinforces stereotypes of police as "beating machines," feeds into hatred of cops and makes things unsafe for officers.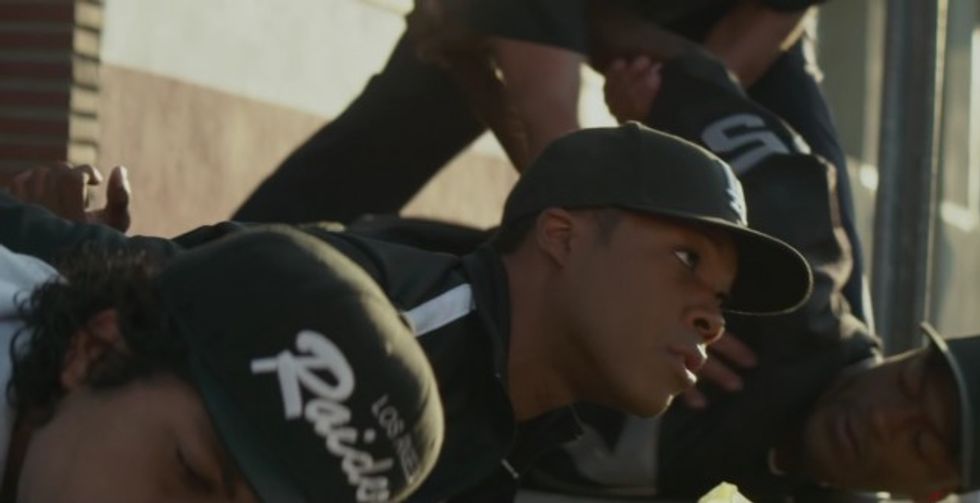 Screengrab from "Straight Outta Compton" trailer. (Image source: YouTube)
Former L.A. City Councilman Dennis Zine, also an ex-LAPD officer who led the Police Protective League, has no love for "Straight Outta Compton" and added that it doesn't help communities already suffering from bad police-public interactions.
"It's a terrible time to release a movie like this," Zine told TMZ. "It adds fuel to the fire for hating cops."
The site added that cops said the release of "Straight Outta Compton" should have been delayed until things calm down in the streets across the country.
A Consequence of Sound review discussed the movie's "unflinching brand of social commentary":
"[The director] sticks his camera right in the faces of racist LAPD officers, and it's at these moments when his film feels most relevant and least reverential. Police brutality has been an omnipresent issue since Michael Brown was killed a year ago, and the Black Lives Matter movement has helped to shine a light on the systemic injustices facing young black people across America. Watching scenes in which the N.W.A. crew is repeatedly abused and harassed by cops, one can't help but draw a connection between then and now."
"Straight Outta Compton" topped the box office this weekend, raking in $56.1 million, doubling Universal Studio's predictions.
On the eve of its release, many theaters stepped up security:
—
Follow Dave Urbanski (@DaveVUrbanski) on Twitter