Joe Lepore served in the United States Navy from 1978 to 1982. He also happens to be a huge fan of Donald Trump, and hopes the billionaire developer wins the Republican nomination for president and eventually ends up in the White House.
When Lepore heard Trump was expected for jury duty on Monday morning, the Fort Lee, New Jersey, resident rode his bicycle 13 miles across the George Washington Bridge to the courthouse on 60 Centre Street in lower Manhattan.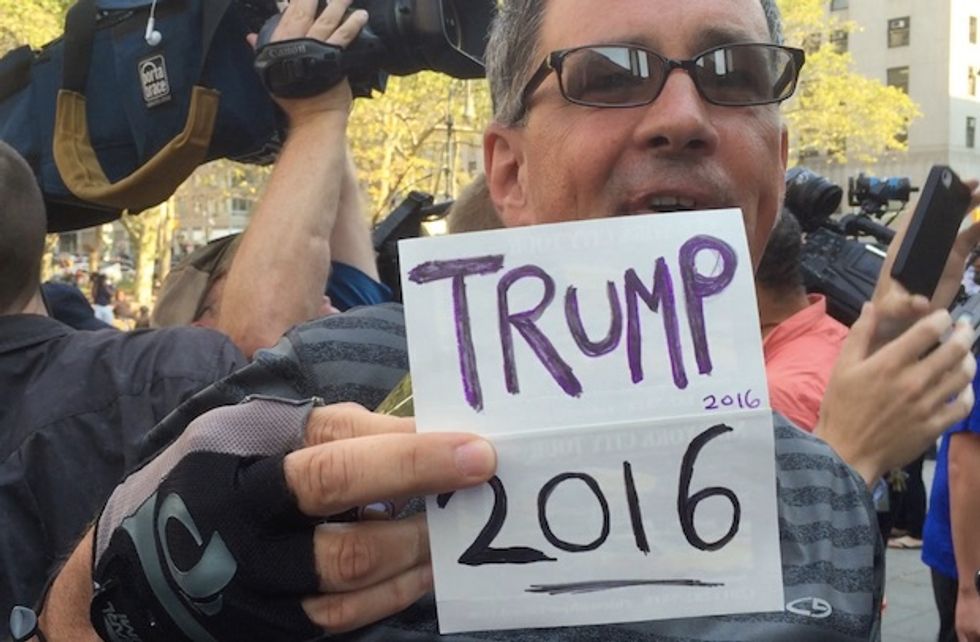 Photo: Mike Opelka / TheBlaze
Lepore was in the middle of the media swarm when Trump arrived Monday morning. As the candidate made his way through the gauntlet of cameras and questions, he spotted Lepore's homemade sign and extended his arm to fist bump the fan.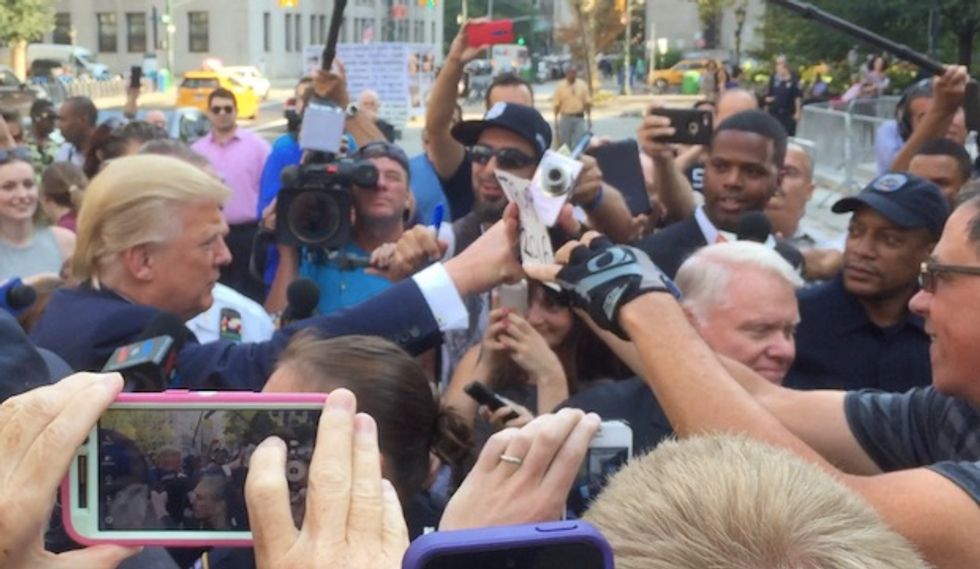 Photo: Mike Opelka / TheBlaze
Connecting with Trump made Lepore's day, and long after Trump made his way into the courthouse, the happy tour guide spoke to several camera crews about his encounter with a man Lepore calls "the next president."
TheBlaze talked with Lepore, asking him why he believes Trump will be good for veterans.
"He said some good things. Like he plans to build a veterans hospital in New Hampshire," Lepore told us.
Speaking specifically about the need for improved health care for veterans and citing his own experience, Lepore added, "It took me over 15 months to get approved for a kidney stone operation. Every single politician and bureaucrat has failed us."
When asked why other veterans should follow his lead and support Trump, Lepore said, "He says he'll get things done. And, I believe him more than I believe the politicians."
Watch the ebullient Lepore share his thoughts on meeting his personal presidential pick in person:
—
Follow Mike Opelka (@Stuntbrain) on Twitter