After a crowdfunding website raised nearly $400,000 for Christian bakers in Oregon who have been ordered to pay $135,000 for their refusal to bake a cake for a lesbian wedding, that same platform is now being used to help another Christian baker facing a similar battle.
Continue to Give, a Christian crowdfunding platform, is hosting a separate fundraiser for Jack Phillips, a Colorado baker who found himself at the center of national controversy after denying a wedding cake for a same-sex couple.
The goal for the fundraiser, which was setup by Phillips' friends and family, is $200,000, and it was launched on Thursday just hours after the Colorado Court of Appeals ruled that Phillips, owner of Masterpiece Cakeshop in Lakewood, cannot cite his faith in his refusal to make a gay wedding cake, as such an act constitutes discrimination.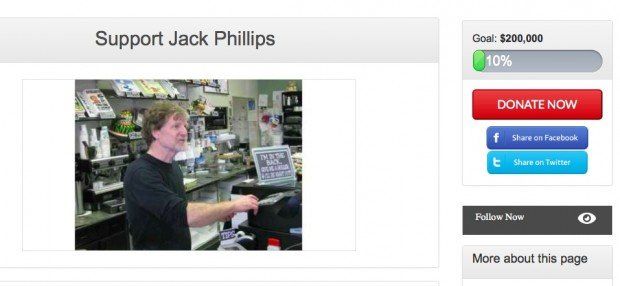 A screenshot from the Continue to Give website
"Help Jack Phillips and his family as they fight for their freedom of religion and freedom of speech. The Colorado Court of Appeals ruling denies him these freedoms," reads a description on the Continue to Give fundraising page. "Let's encourage Jack as he stands for our freedom as well as his."
Problems for Phillips began in 2012 when he turned gay couple Charlie Craig and David Millions away after they approached him seeking a wedding cake for a celebration that they planned to have in Colorado.
After the couple complained to the Colorado Civil Rights Commission, the case against Phillips and his bakery touched off.
The commission found Phillips guilty of discrimination, leading the Alliance Defending Freedom, the conservative legal firm that represents the baker, to file a brief with the Colorado Court of Appeals earlier this year alleging that a member of the commission compared the baker's stance to "slave owners and perpetrators of the Holocaust."
A statement from the legal firm cited the words of civil rights commissioner Diann Rice, which were reportedly uttered during a July 25, 2014 hearing on the matter.
"I would also like to reiterate what we said in … the last meeting [concerning Jack Phillips]. Freedom of religion and religion has been used to justify all kinds of discrimination throughout history, whether it be slavery, whether it be the Holocaust," Rice said. "I mean, we can list hundreds of situations where freedom of religion has been used to justify discrimination. And to me it is one of the most despicable pieces of rhetoric that people can use – to use their religion to hurt others."
Despite the commission's ruling finding that Phillips must change his policies to no longer refuse making gay wedding cakes and the court of appeals' latest decision that he cannot cite faith in his refusal, it appears that the baker isn't backing down.
In this March 10, 2014 photo, Masterpiece Cakeshop owner Jack Phillips decorates a cake inside his store, in Lakewood, Colo. (AP Photo/Brennan Linsley)
It was back in June 2014 that Phillips told TheBlaze that he had no intention of providing confectionery services for gay and lesbian weddings.
"I'm not going to make cakes for same-sex weddings," he told TheBlaze at the time. "That violates my First Amendment speech … and my duty as a Christian abiding by my savior."
Masterpiece Cakeshop has reportedly lost more than a third of its receipts since the controversy broke out, according to the Daily Signal.
"We hope it will relieve some of the financial pressure on Jack," Phillips' brother-in-law Jim Sander told the Daily Signal of the quest to raise $200,000. "A business that has a 10 percent loss is a big deal in the Wall Street Journal. So a 40 percent loss is a big hit."
So far, the effort has brought in $20,000 since it went online last Thursday.