Two would-be robbers armed with a sword tried to hold up a convenience store in Pittsburgh on Monday. But they didn't expect it to turn out this way.
One of the two men wielded a knife with a foot-long blade but both were visibly caught off guard by the weapon the store clerk pulled out – an even bigger sword, according to WPXI-TV.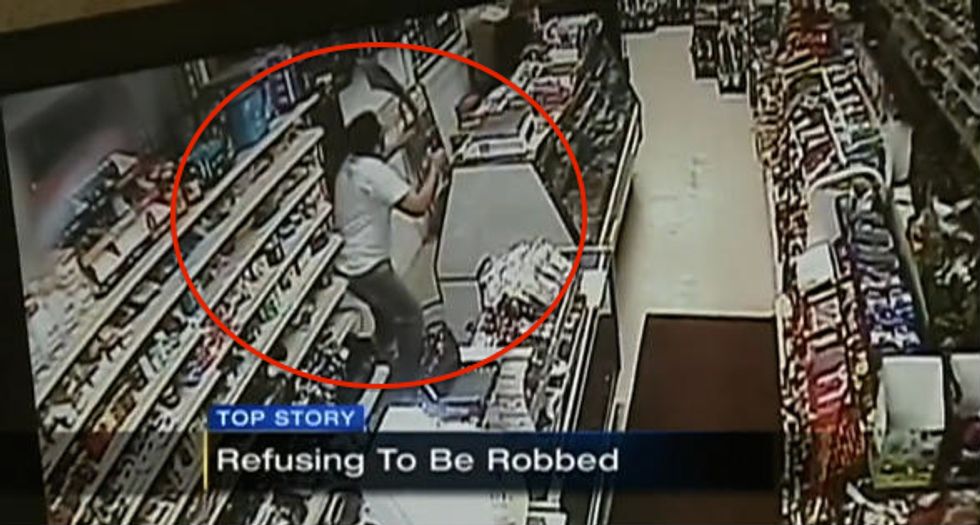 Image source: WPXI-TV
"He was like, 'Stay away. Give me money. Give me money,'" M.C. Hydare, the brother of the cashier, said.
Surveillance video then shows the would-be robbers running toward the door for their own safety.
"He had a sword, so he just removed the sword and attacked him," Hydare said of his brother's reaction. "Then when he hit the sword that the dude had in his hand, he ran away."
The two suspects are believed to be juveniles and managed to escape.
Even so, Hydare wants the would-be robbers to know they don't have to hold up a convenience store to get by: "You can have money in a better way. Not this. Please stay away. Go and find work somewhere."
(H/T: WPXI-TV)
–
Follow Jon Street (@JonStreet) on Twitter