As Planned Parenthood supporters hold a protest outside of the Governor's Mansion in Louisiana, Gov. Bobby Jindal will broadcast the series of controversial undercover videos that have been released by an anti-abortion group over the past several weeks.
According to a statement from his office, speakers and a movie screen will be set up with the protestors in full view. The videos will be played on a loop for the duration of the protests.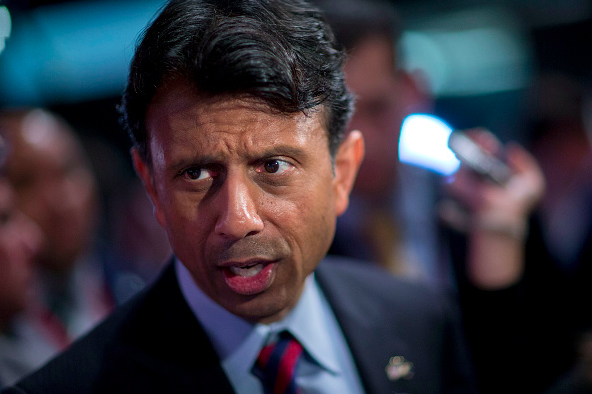 Bobby Jindal, governor of Louisiana and 2016 Republican presidential candidate, speaks to the media in the spin area after a televised forum ahead of the first Republican presidential debate at Quicken Loans Arena in Cleveland, Ohio, U.S., on Thursday, Aug. 6, 2015. Seven candidates in the forum, hosted by Fox News and Facebook Inc. in conjunction with the Ohio Republican Party, were omitted from the prime-time debate stage after they didn't make the top 10 of an average of the five most recent national polls as recognized by Fox News. Photographer: Andrew Harrer/Bloomberg via Getty Images
"Many Planned Parenthood supporters, including President Obama and members of the White House, said they have not or will not view the horrific Planned Parenthood videos," the statement said. "Planned Parenthood has a right to protest today, but Governor Jindal's office will ensure that anyone who shows up will have to witness first-hand the offensive actions of the organization they are supporting."
The Planned Parenthood supporters have planned to gather in front of the Governor's Mansion on Thursday at 4:30 p.m. local time to protest Jindal's decision to pull Medicaid funding from the facilities, even though Planned Parenthood does not provide abortions in the state. Jindal has also called for an investigation into the facilities.
"By defunding Planned Parenthood, Jindal threatens health care services for more than 5,200 women, men and young people who rely on Medicaid for care at Planned Parenthood health centers in New Orleans and Baton Rouge," Planned Parenthood Gulf States director Melissa Flournoy said Thursday.
According to data collected by a pair of anti-abortion groups, there are only two Planned Parenthood clinics in the state of Louisiana compared to 294 other federally qualified and rural health clinics in the state.
"We hope the protestors will take a minute to watch them so they'll have an opportunity to see first-hand our concerns with Planned Parenthood's practices," Jindal, a 2016 Republican presidential candidate, said Thursday.
Planned Parenthood Louisiana did not return requests for comment from TheBlaze, but officials said in a statement to the New Orleans Times - Picayune that Jindal "has no real answers for the people of Louisiana."
"Jindal isn't even in Louisiana today, but he's made sure to prove that he's always ready to put politics before Louisianan's health," the abortion provider said in a statement.   
Jindal was in Spartanburg, South Carolina on Thursday to participate in a town hall at Wofford College that was hosted by Sen. Tim Scott (R-SC).
We will play the videos on a screen outside the LA Gov. Mansion so those protesting my decision to defund Planned Parenthood know why.

— Gov. Bobby Jindal (@BobbyJindal) August 20, 2015