Republican presidential candidate Donald Trump got into a testy exchange with a reporter during a press conference in New Hampshire on Wednesday over his use of the term "anchor babies" to describe children of illegal immigrants.
"Good Morning America" reporter Tom Llamas first informed Trump that the term was "offensive" -- and the Republican's defiant response was immediate.
"You mean it's not politically correct and yet everybody uses it?" Trump responded.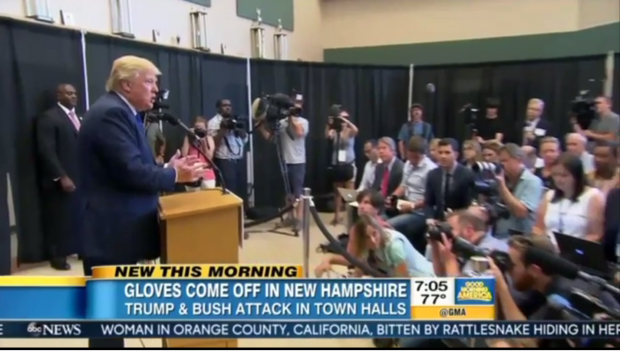 ABC
Appearing to get frustrated, Llamas shot back, "Look it up in the dictionary. It's offensive!"
When Trump sarcastically asked the reporter what term he should use instead, Llamas suggested "the American-born child of an undocumented immigrant."
"You want me to say that? OK. I'll use the word anchor baby," Trump said. "Excuse me, I'll use the word anchor baby."
Watch the clip, which aired on ABC on Thursday, below:
(H/T: NewsBusters)
---