A senior Iranian atomic official said that Iran's "enemies" have tried several times to sabotage operations at the Fordo uranium enrichment plant, Iran's semi-official Fars News Agency reported Thursday.
"The enemy has several times sought to conduct acts of sabotage to disrupt the operation of Fordo, but these actions have all been foiled due to the vigilance of the Iranian security and intelligence forces," said Asqar Zarean, the deputy head of the Atomic Energy Organization of Iran.
The official did not offer details about the nature of the attempts or when they had occurred.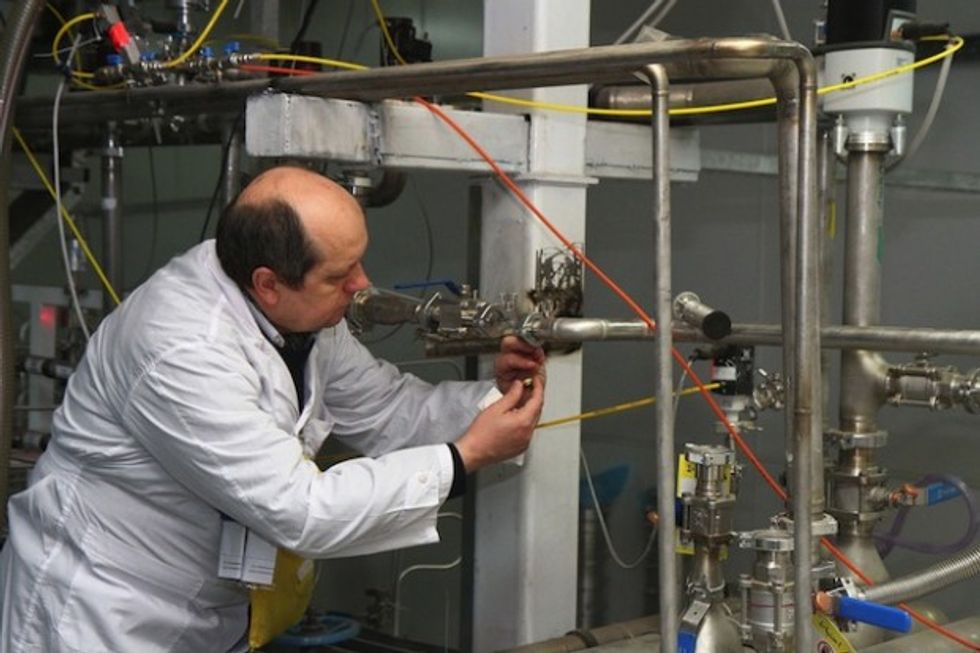 An unidentified International Atomic Energy Agency inspector at the Natanz nuclear power plant, some 180 miles south of Tehran, Jan. 20, 2014. (Kazem Ghane/AFP/Getty Images)
The Fordo uranium enrichment plant is a heavily fortified facility built into a mountain near the Shiite holy city of Qom, where Zarean spoke.
On Saturday, Zarean also commented on efforts by "the enemy" to block Iran's nuclear development, but did not name to which "enemy" he was referring.
"Similar to the past, the enemy is seeking to prevent Iran's peaceful nuclear activities using new instruments, and we should identify and defuse these moves with wisdom and prudence," Zarean told reporters Saturday in Tehran.
Fars noted that in September, Zarean said that Iranian experts traveling overseas had been approached by foreign intelligence agencies. He did not specify in which countries or when this had occurred.
The senior atomic official showed equipment, including modems and pumps, which he asserted had been tampered with in an effort to sabotage Iran's nuclear development.
In 2009 and 2010, the now-famous Stuxnet virus destroyed Iranian centrifuges used to enrich uranium. It was reported to be a joint U.S.-Israeli effort.
Iran has accused Israel of assassinating at least five of its nuclear scientists who were killed in mysterious bombings.