Katie Wilson was adopted when she was 18 months old. Now, as a 17-year-old girl, she wanted answers about where she came from. So, she turned to the most logical place: Facebook.
Hoping to find the family she was separated from years ago, Katie posted a video appeal on Facebook. Within hours, it worked:
"Hello, my name is Katie. My birth name was Katherine Rebecca Leigh Wilson. I was born on Oct. 10, 1997 in Jefferson County Kentucky. I am seeking out to find my birth mom & half-sister to find out about my biological family. My birth mom's name is Cynthia Michelle Wilson. She was born May 9th, 1977 (38) in Louisville Ky. Has moved around to Az, Ky, and In. My sister's name is Kelsey Wilson. She was born April 16th, 1996 (19) in Ky.

"PLEASE HELP ME FIND THEM!!!
Phoenix's KPNX-TV picked up her Facebook post and shared it on the station's Facebook page.
Less than three hours later, a person contacted KPNX with contact information for Katie Wilson's sister, Kelsey.
The contact info included a link to Kelsey's Facebook page. Katie visited the page and perused the photos posted there. She was stunned to discover that almost a year ago, Kelsey had posted a note very similar to hers.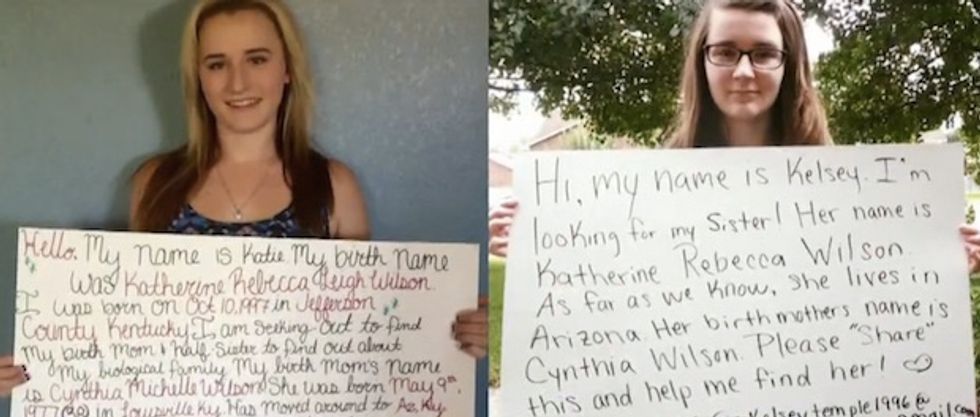 Image source: 12News.com
The two connected on Tuesday and "talked all night."
Watch the follow-up story from the local station:
—
Follow Mike Opelka (@Stuntbrain) on Twitter.