A gunman who attempted to launch an attack on a train traveling from Amsterdam to Paris was watched by European counterterrorism groups because of his radical jihadist views, CNN reported.
According to CNN, the gunman, who was reportedly thwarted by two U.S. Marines in plain clothes aboard the train, was a Moroccan Islamist militant. CNN reported that  a security official said it appeared the suspect had ties to the Islamic State, although that has not been confirmed.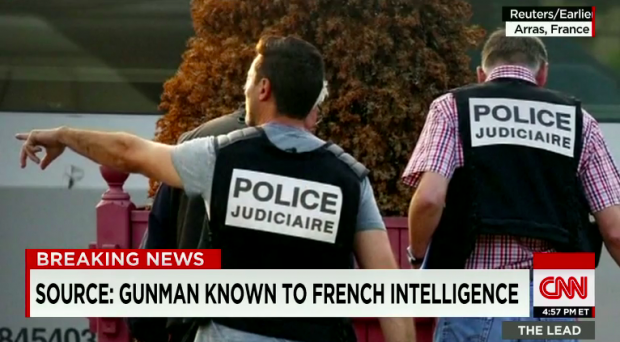 Image source: CNN
France's interior ministry confirmed Friday that three people were injured aboard the high-speed train. The attack has not been classified as a terrorist attack, at least not yet, but Interior Minister Bernard Cazeneuve did call it "an attack of barbaric violence." CNN reported that Paris' anti-terrorism prosecutor's office will investigate the attack.
Two people were hospitalized with serious injuries but are expected to live, Anthony Blondeau, spokesperson for the city of Arras, said Friday. The third person injured was Jean-Hugues Anglade, a French actor, who suffered a small hand injury.
Blondeau did confirm that one of the two people with serious injuries was an American, although it is unknown at the time whether that person is one of the Marines.
Gunman who injured 3 on French train was Islamist militant, officials say. http://t.co/TiuOU4IKga

— CNN Breaking News (@cnnbrk) August 21, 2015