Senator Ted Cruz (R-Texas) got into a surprise confrontation with actress Ellen Page over gay rights and religious liberty at the Iowa State Fair on Friday — and ABC News captured the tense exchange on video.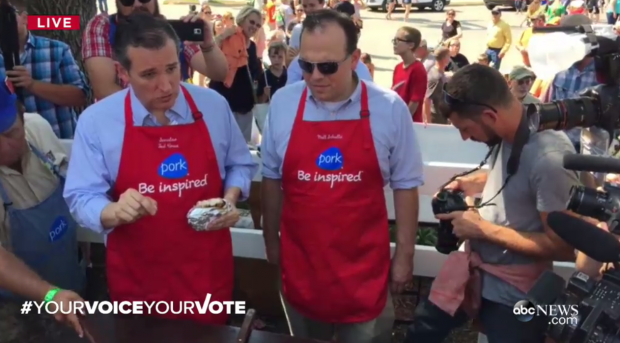 ABC News
Page, wearing sunglasses and a hat, reportedly snuck up on Cruz as he was grilling pork chops at the fair.
"What about the question about LGBT people being fired for being gay-trans?" the actress asked.
Cruz responded, "Well, what we're seeing right now, we're seeing Bible-believing Christians being persecuted for living according to their faith."
"Yeah, for discriminating against LGBT people," Page, who is openly gay, interrupted.
"No, for living according to their faith," Cruz shot back, telling the actress that he's happy to answer her question but wouldn't do a "back-and-forth debate."

ABC Latest News | Latest News Videos
More from ABC News:
The Texas senator, 44, went on to argue today that "no one has the right to force someone else to abandon their faith and their conscience."

"Imagine, hypothetically, you had a gay florist and imagine two evangelicals wanted to get married and they decide, 'You know what, I disagree with your faith and I don't want to provide flowers,'" Cruz posed to Page.

Cruz and Page, both Canadian-born, spoke for over five minutes. Afterward, ABC News asked Cruz whether he knew it was Page and he said no. He described the conversation to us as being about religious liberty.
Cruz is also seen in the video noting the persecution of gay people by Iran and the Islamic State and accused the left of remaining silent on the issue. Page disagreed with his claim.
Page, who was reportedly in Iowa for a project for VICE, has not hidden her disdain for Cruz in the past.
---