Thirty large whale deaths — nearly three times the number scientists would expect — in the Gulf of Alaska are puzzling scientists and prompted an investigation.
The National Oceanic and Atmospheric Administration's Fisheries service out of its Alaska regional office reported 11 dead fin whales, 14 humpback whales, one gray whale and four unidentified cetaceans around the islands of the western Gulf of Alaska since May 2015.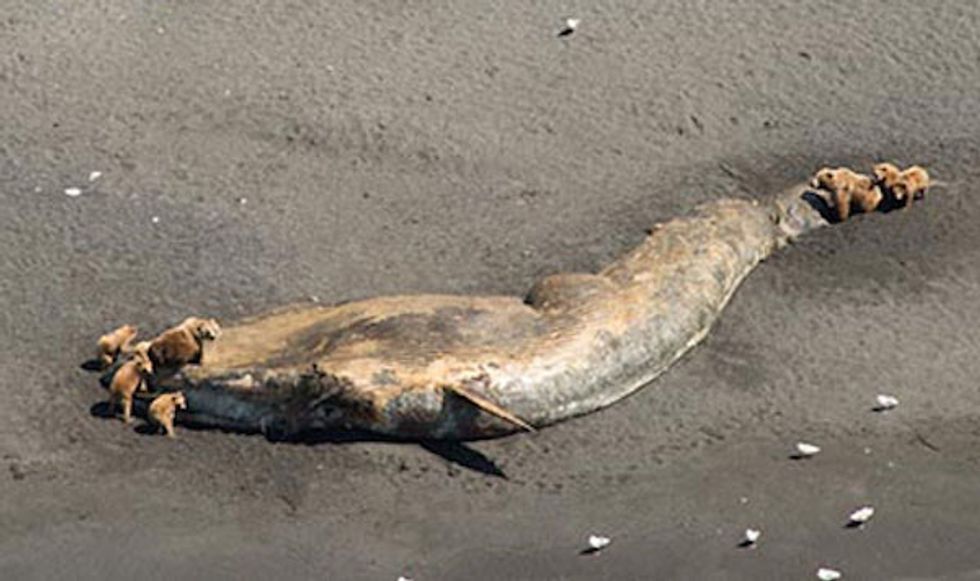 Bears feeding on a fin whale carcass in Larson Bay, Alaska. (Image source: NOAA)
This number, NOAA said, makes it an "unusual mortality event" that is now being investigated by experts in the U.S. and Canada.
"NOAA Fisheries scientists and partners are very concerned about the large number of whales stranding in the western Gulf of Alaska in recent months," Dr. Teri Rowles, NOAA Fisheries' marine mammal health and stranding response coordinator, said in a statement. "While we do not yet know the cause of these strandings, our investigations will give us important information on the health of whales and the ecosystems where they live. Members of the public can greatly assist the investigation by immediately reporting any sightings of dead whales or distressed live animals they discover."
Map showing the distribution of whale deaths in the area. (Image source: NOAA)
According to NOAA, the investigation could take months, even years, before any conclusions are made.
Officials have only been able to get samples from one of the 30 whales. Rowles told reporters during a teleconference Thursday that large-scale whale deaths are among the toughest to investigate, partly because the carcasses often are floating, rarely beached and difficult to access for examination. In Alaska, bears feeding on washed-up whale carcasses create safety concerns for researchers who want to collect samples, she said.
Without being able to conduct a more complete necropsy, scientists and researchers can look at such things as environmental factors, historical information and mortality among seabirds or other sea creatures to try to get a better sense of what is going on, Rowles said. But they are limited in what they can do without better access to the carcasses, she said.
The Alaska Dispatch News has more on the speculation of what could be causing the deaths:
"That always concerns us because that means there's probably a change in overall pathogen exposure, possibly harmful algal blooms and other factors," Rowles said in Thursday's teleconference.

A leading suspect in the Alaska whale deaths is some type of toxin produced by an algal bloom, she said.

"Biotoxins will be one of the top priorities but not the only priority that we'll be looking at to rule in or rule out whether it's playing a role in this death investigation and these mortalities, both in Canada and the U.S.," she said.

Infectious diseases are also possible culprits, as are other environmental factors, she said.

Not considered a likely suspect at this time is the recent Northern Edge military exercise conducted in and around the Gulf of Alaska. "At this time, we have no evidence linking the whale deaths to military activities," said NOAA spokeswoman Julie Speegle.
Though California has seen several large whales wash up on its shores this year as well, Rowles said it does not appear to be a "coast-wide" event at this point, noting that large whale deaths have not necessarily increased during the same timeframe near California, Washington and Oregon as they have very locally in the western Gulf of Alaska.
—
The Associated Press contributed to this report.