Republican presidential contender Scott Walker backtracked on comments he had made earlier in the week regarding birthright citizenship and said he will not take a formal position.
The Wisconsin governor told CNBC's John Harwood Friday that his previous comments on birthright citizenship had been misconstrued, and he does not officially support ending the law that grants people born in the U.S. automatic citizenship, despite the citizenship status of their parents. He contended that he is not taking an official position on the matter.
"I'm not taking a position on it one way or the other," Walker said. "I'm saying that until you secure the border and enforce the laws, any discussion of about anything else is really looking past the very things we have to do."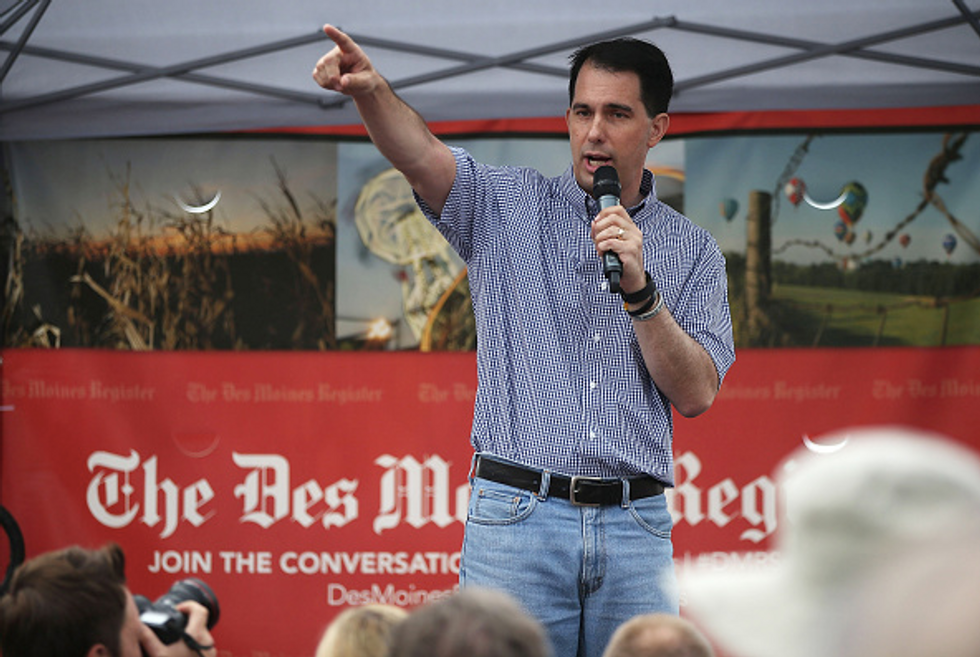 DES MOINES, IA - AUGUST 17: Republican presidential candidate and Wisconsin Gov. Scott Walker speaks to fairgoers during the Iowa State Fair on August 17, 2015 in Des Moines, Iowa. Presidential candidates are addressing attendees at the Iowa State Fair on the Des Moines Register Presidential Soapbox stage and touring the fairgrounds. The State Fair runs through August 23. (Photo by Justin Sullivan/Getty Images)
"Americans are fed up," Walker continued. "They are sick and tired of Washington not being able to tackle these issues and they want someone who's going to take care of it."
Earlier this week, Walker addressed the controversial issue that has been a topic among the 2016 presidential contenders of late. Speaking on Monday to MSNBC's Kacie Hunt, Walker's comments seemed to show his support for an end to automatic citizenship.
"Harry Reid said it's not right for this country, I think that's something," Walker said then. "Yeah, absolutely, going forward."
Kirsten Kukowski, Walker's spokeswoman, later clarified her boss' comments, saying he wanted to eliminate the problem of birthright citizenship, not necessarily actually eliminate birthright citizenship. 
"We have to enforce the laws, keep people from coming here illegally, enforce e-verify to stop the jobs magnet and by addressing the root problems we will end the birthright citizenship problem," she said in a statement, according to the Washington Post.
According to the latest CNN/ORC poll, Walker is currently polling fifth among the vast field of Republicans, behind Donald Trump, former Florida Gov. Jeb Bush, Ben Carson and Florida Sen. Marco Rubio.
Watch Walker's interview below.