British Foreign Secretary Philip Hammond was in Tehran Sunday for a ceremony reopening the U.K.'s embassy to Iran, but British media appeared to be surprised that offensive graffiti scrawled on the walls four years ago calling for "Death to England" had not been removed.
Britain's Sunday Telegraph wrote that it was a "disgrace" that the slogans – one written above a portrait of Queen Elizabeth II - had not been removed. The Mirror described it as "chilling."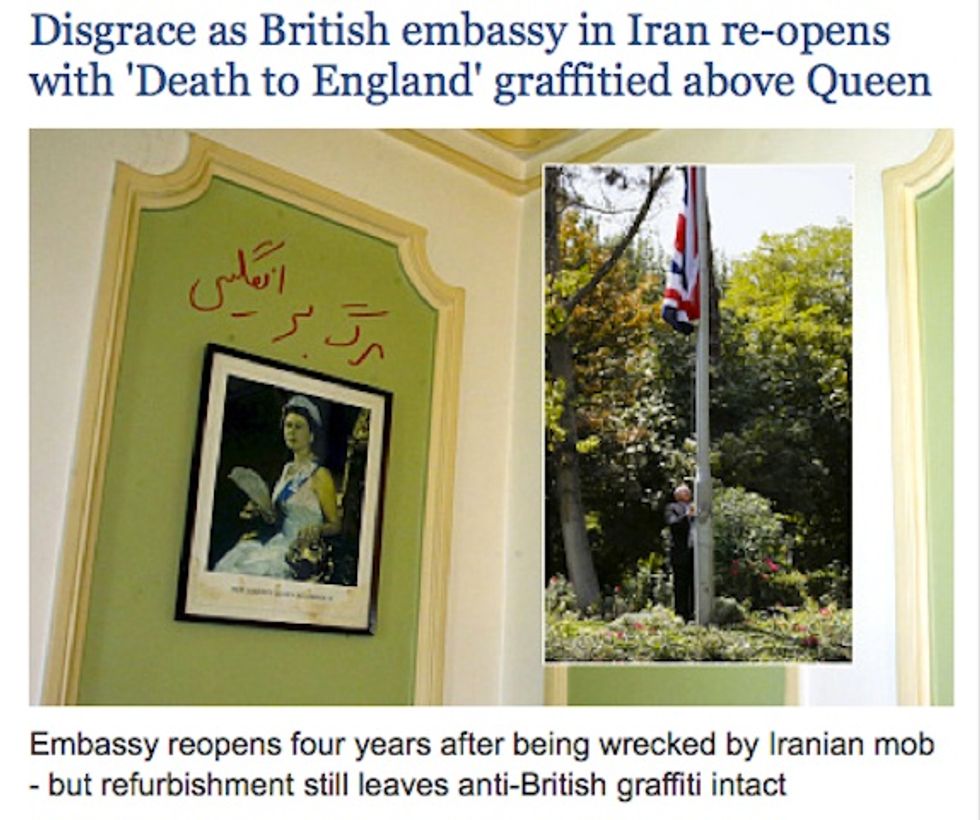 How the revelation that the graffiti had not been fixed - or at least covered up - was reported by The Telegraph's website. (Screenshot)
The U.K. closed its embassy in 2011 after a mob of protesters stormed the diplomatic mission to protest sanctions against Iran.
Relic of UK #Tehran embassy invasion 2011, which led to its closure. Graffiti says death to England. pic.twitter.com/EgnogfpjVY

— Jeremy Bowen (@BowenBBC) August 23, 2015
During the storming, the offices were ransacked and walls were defaced with the offensive graffiti.
The Telegraph reported:
Officials claimed that removing the graffiti without damaging the building's elegant Victorian walls required specialists who had not yet been brought in. But there was surprise that the offending graffiti, which was written in Persian, had not been covered up in anyway prior to Mr Hammond's visit. There were other signs of damage as well, including mirrors that were still broken.
When he arrived in Tehran, the foreign secretary called his visit an "historic moment."
Pleased to announce the re-opening of the British Embassy in #Tehran. Important milestone in improved relations. pic.twitter.com/Gfu8PnB3P1

— Philip Hammond (@PHammondMP) August 23, 2015
"Our relationship has improved since 2011. Four years on from an attack on the British embassy, I am today re-opening it," Hammond said.
Hammond was on hand to see the British flag raised as "God Save the Queen" was played over a loudspeaker, the Telegraph reported.
"We will not always agree but as confidence and trust grows, there should be no limit over time to what we can achieve together," Hammond said.
Some in Britain have complained that Iran did not foot the bill for repairing the embassy which so far has run in the hundreds of thousands of dollars.