Former Florida Gov. Jeb Bush avoided using the phrase "anchor babies," during his remarks on immigration, but said Asians were a problem with gaming birthright citizenship.
Bush talked about illegal immigration Monday in McAllen, Texas, after speaking to a group of Texas officials about border security. A reporter asked Bush about using the phrase "anchor babies," which some have called offensive. Hillary Clinton's campaign has been particularly critical of Bush. Bush said most who take advantage of birthright citizenship are Asians rather than Hispanic.
"This is ludicrous for the Clinton campaign and others to suggest that somehow I'm using a derogatory term," Bush said. "What I was talking about was the specific case of fraud being committed, organized efforts, and frankly, it's more related to Asian people coming into our country having children in organized efforts taking advantage of a noble concept of birthright citizenship. I support the Fourteenth Amendment. Nothing about what I've said should be viewed as derogatory towards immigrants at all."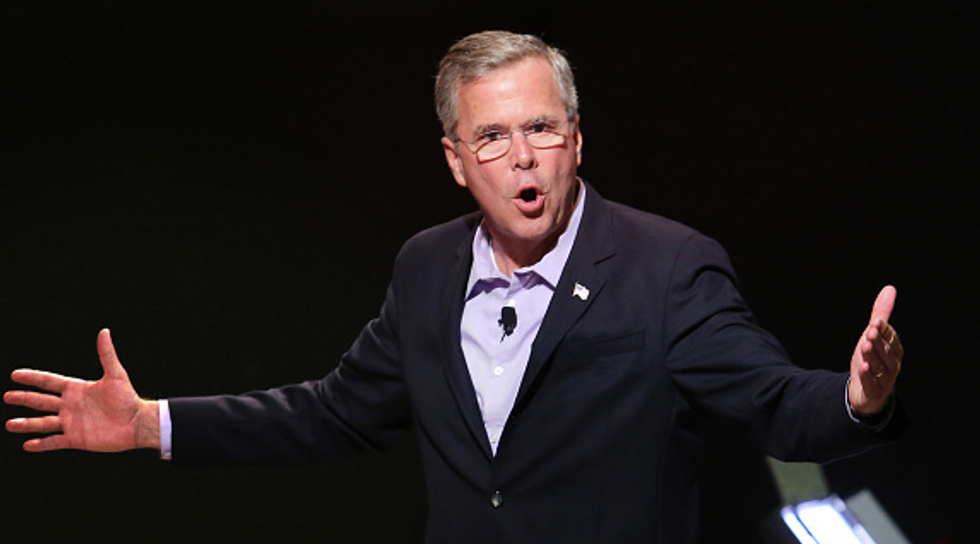 (Joe Burbank/Orlando Sentinel/TNS via Getty Images)
Donald Trump used the phrase "anchor babies," to describe children born in the United States to illegal immigrants, making them automatic citizens. Part of Trump's immigration plan includes ending birthright citizenship. Bush later said "anchor babies" during an interview.
Trump, a billionaire real estate mogul, has also proposed building a wall along the U.S.-Mexican border and requiring the Mexican government pay for it, as well as large scale deportations of illegal immigrants in the United States.
Bush also mocked Trump's immigration proposal more broadly.
"His plans are not grounded in conservative principles because it would cost hundreds of billions of dollars, it's not realistic, it won't be implemented and we need border security to be able to be able to deal with getting this country back on track," Bush, a former Florida governor, said of Trump at a press conference in McAllen, Texas after speaking to a group of Texas officials about border security.
"I'm not going to get into the issues of what he said and what I said," Bush continued. "The simple fact is, his proposal is unrealistic, would cost hundreds of billions of dollars, it will violate people's civil liberties, it will create friction with our third largest trading partner, which is not necessary, and I think he's wrong about this."