MSNBC's "Morning Joe" panel strongly criticized Democratic presidential candidate Hillary Clinton's comments comparing Republicans to terrorist groups over their views on women.
Host Joe Scarborough called the comparison "absolutely disgusting" and "gutter politics at its worst." He also argued the remarks were a transparent attempt to distract people from her swelling email scandal amid an FBI investigation.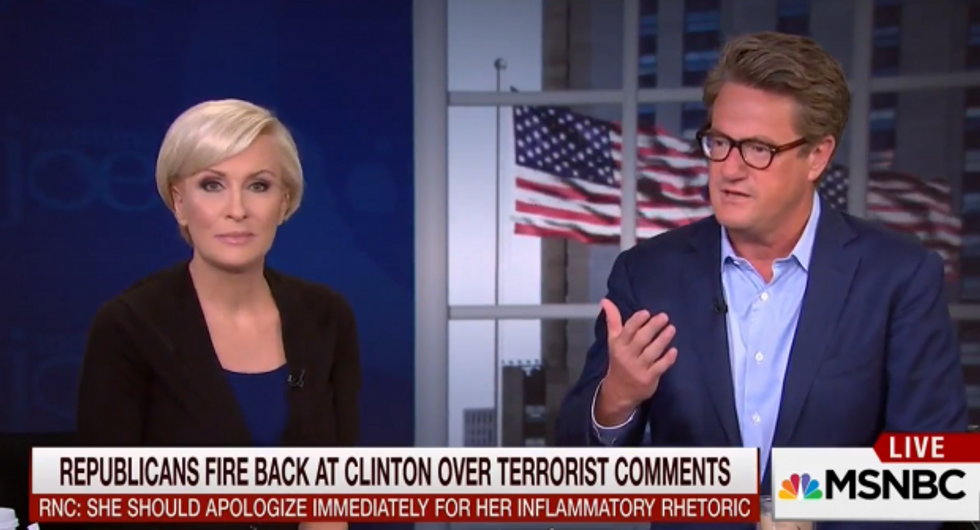 (MSNBC)
"Hillary Clinton saying that somebody who is pro-life — I mean, let's tell the truth," Scarborough said. "She wanted us to talk about this. She wanted to throw a bright shiny object out there, so they don't talk about the email scandal…it's gutter politics at its worst to compare people to radical terrorists that cut off people's heads and blow up grandmoms."
He continued: "It's not all right…And what Hillary Clinton did is compare somebody who is pro-life — which is close to 50% of Americans — to radical terrorists."
Bloomberg reporter Mark Halperin agreed, saying, "If a Republican did this, the world would come to a halt." He also said her comments "should be condemned in strong terms."
While Halperin also predicted Clinton would apologize for the controversial comparison, Scarborough noted the campaign confirmed she has no plans to apologize.
Watch the segment via MSNBC below:
(H/T: Mediaite)
---