On Wednesday morning, Vicki Gardner stood in front of a Virginia news station's camera talking to a reporter in a live TV interview about the 50th anniversary of a local reservoir.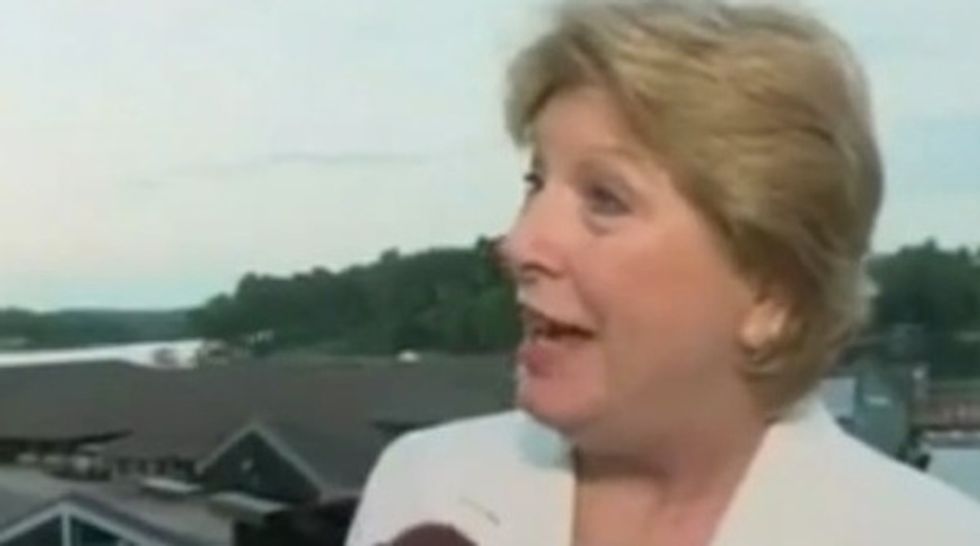 Vicki Gardner being interviewed by the news station. Gardner was listed in good condition after being shot in the back by Vester Lee Flanagan. (Image source: ABC News)
On Thursday, the executive director of the Smith Mountain Lake Regional Chamber of Commerce woke up from a medically induced coma after two surgeries.
Gardner was the only person to survive the attack Wednesday morning by a former WDBJ-TV employee, identified as Vester Lee Flanagan, who police say shot and killed 24-year-old Alison Parker, a reporter for the news station, and 27-year-old Adam Ward, a cameraman.
Among the thousands who watched live as 41-year-old Flanagan pulled out a Glock and fired shots was Gardner's own husband.
Tim Gardner told CNN a day after the shooting he was "stunned" by what he saw and that his wife called him from the ambulance.
"When she called me she told me she had been shot in the back and that she was lucky to be alive," he told CNN.
After speaking further with his wife, who was upgraded to good condition at Carilion Roanoke Memorial Hospital Thursday morning, Tim Gardner told ABC News more of Vicki Gardner's perspective of the tragic events.
According to Tim Gardner's account from his wife, Flanagan, who was fired by WDBJ a couple of years ago and went by the name Bryce Williams, first shot at Parker and then Ward.
"Then he shot three times at my wife, and she was trying to dodge everything," Tim Gardner said. "He missed twice, and then she dove to the ground and curled up in a ball, and that's when he shot her in the back."
Parker and Ward were fatally shot, but after Flanagan left the scene, Tim Gardner said his wife got up and with a bullet in her back walked to an ambulance.
"[...] but she didn't know the extent of her injuries at that point, but the surgeon told me that a couple of centimeters and she wouldn't be walking and a couple of centimeters more and she wouldn't be alive," the woman's husband continued to ABC News.
Watch ABC's report:
While ABC News reported that Vicki Gardner is expected to make a full recovery after having one kidney and part of her colon removed, emotionally, her husband said, "she's just a little torn up about things at the moment." And understandably so.
People around the country and especially those who work at WDBJ mourned what Virginia Gov. Terry McAuliffe called a "senseless tragedy" as he also demanded stricter gun control.
"Keeping guns out of the hands of people who would use them to harm our family, friends and loved ones is not a political issue; it is a matter of ensuring that more people can come home safely at the end of the day," the democratic governor said in a statement. "We cannot rest until we have done whatever it takes to rid our society of preventable gun violence that results in tragedies like the one we are enduring today."
WDBJ's "Mornin'" show opened Thursday with images of Parker and Ward, with the words "In Memory."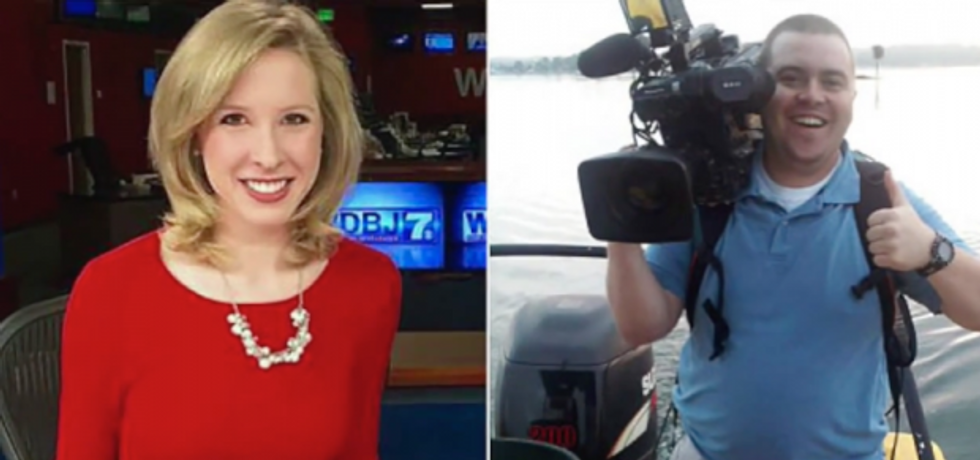 Alison Parker and Adam Ward as seen in a tribute by WDBJ. (Image source: WDBJ-TV)
"We come to you with heavy hearts. Two of our own were shot during a live shot yesterday morning," said Kim McBroom, the anchor whose open-mouthed shock was seen around the world Wednesday after Ward's camera recorded the fatal attack by the disgruntled former colleague.
Perhaps the most poignant segment came when McBroom, weatherman Leo Hirsbrunner and an anchor from a sister station who came to help out joined hands for a moment of silence at 6:45 a.m., 24 hours after the shots rang out.
"We are approaching a moment that none of us will ever forget," McBroom said, her voice faltering as the show went silent.
McBroom started Friday's broadcast by telling viewers it was "another tough morning for us, but we're soldiering on."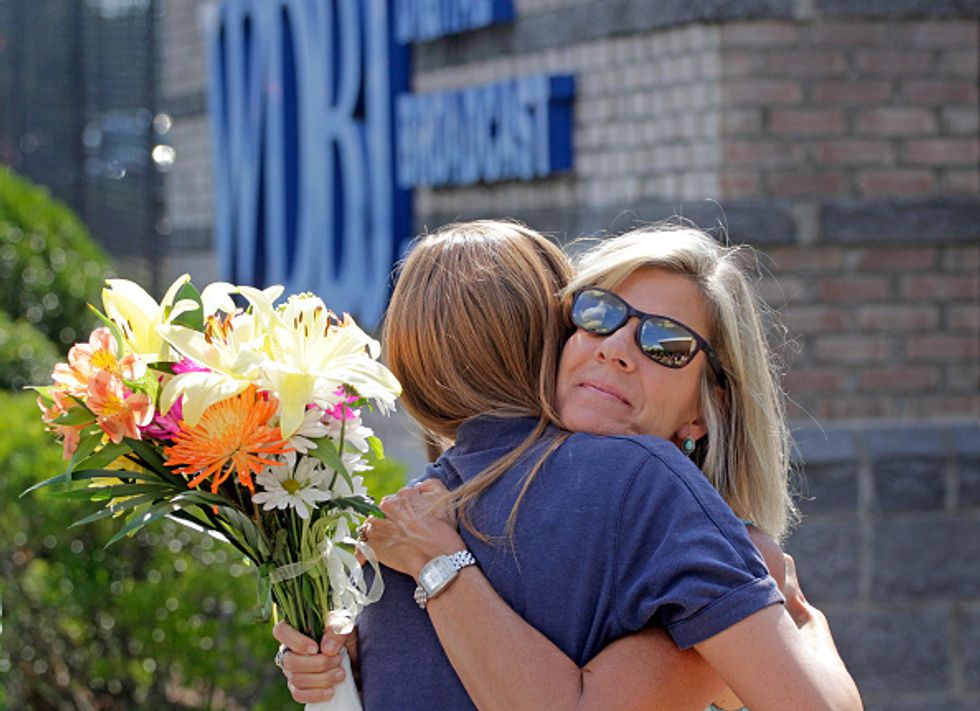 WDBJ employee, Karen Loftus gets a hug from Donna Anderson, whose daughter works at the station after a press conference about the two journalists that were killed on August 27, 2015 in Roanoke, Virginia. Two employees of WDBJ TV were killed during a live broadcast at Bridgewater Plaza on Smith Mountain Lake on August 26. The victims have been identified as reporter Alison Parker and camerman Adam Ward. Parker, 24 and Ward, 27, worked for WDBJ in Roanoke, Virginia. The suspect, Vester Lee Flanigan, also known as Bryce Williams, died of a self-inflicted gunshot wound. (Jay Paul/Getty Images)
Tributes to Parker and Ward continued to dominate the 5 a.m. newscast Friday. This time, news unrelated to the tragedy dotted the program.
Flanagan, who fled the scene, hours after the attack faxed ABC News a 23-page note in which he said he was discriminated against both for being black and gay.
He called himself "a human powder keg for a while...just waiting to go BOOM!!!"
Flanagan would go on to crash a car and shoot himself. He died at a Virginia hospital.