© 2023 Blaze Media LLC. All rights reserved.
Ted Cruz's Harsh Words for Obama After Execution-Style Murder of Texas Deputy: 'From the Top on Down'
"The response of senior officials, of the president, of the attorney general, is to vilify law enforcement."
Texas Republican Sen. Ted Cruz is blaming President Barack Obama's "harsh rhetoric" toward law enforcement for the execution-style murder of a sheriff's deputy near Houston over the weekend.
The GOP presidential candidate, who is from Houston, made the comment during a campaign appearance in Milford, New Hampshire, on Monday after he was asked by reporters about the fatal shooting of Harris County Sheriff's Deputy Darren Goforth.
"Cops across this country are feeling the assault. They're feeling the assault from the president — from the top on down — as we see, whether it's in Ferguson or Baltimore. The response of senior officials, of the president, of the attorney general, is to vilify law enforcement," Cruz said, according to WFAA-TV.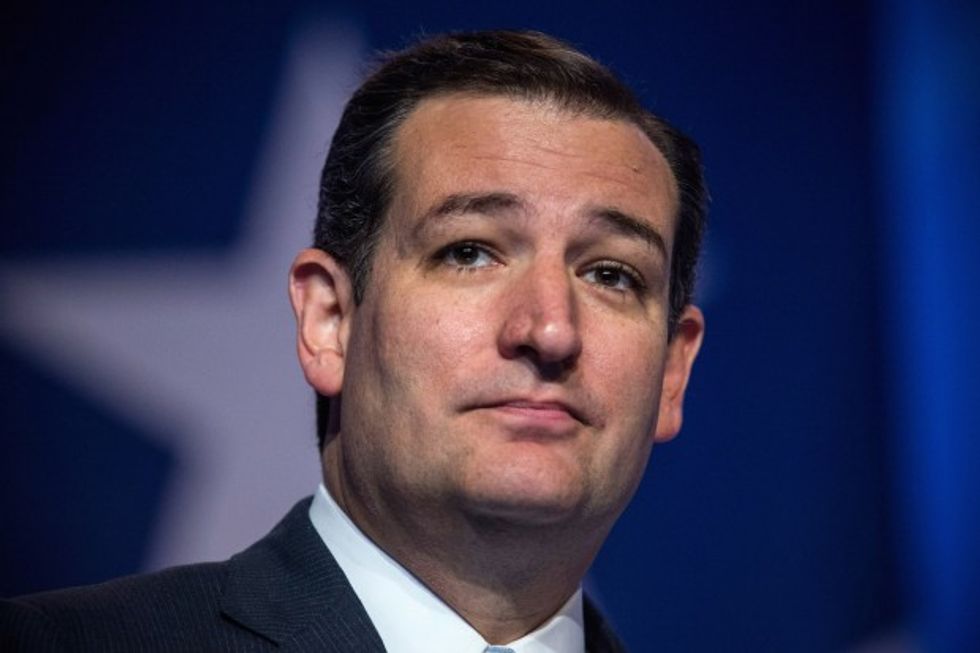 Andrew Burton/Getty Images
The Texas senator went on to directly link Goforth's death with the executive branch.
"These are brave heroes who risk their lives keeping us safe. And I do think we're seeing the manifestation of the rhetoric and vilification of law enforcement, of police, that is coming from the president of the United States and it's coming from senior officials," Cruz charged,  the Dallas Morning News reported.
"I'm proud to stand with law enforcement. We need a president who doesn't attack and vilify them and who doesn't seek to tear us apart along racial lines to inflame racial divisions," he later declared.
The district attorney said Goforth was shot at least 15 times as he filled up his patrol vehicle at a gas station in uniform.Shannon Miles, 30, was arrested Saturday and is charged with capital murder. He is being held without bond.
Obama called the slain deputy's widow, Kathleen Goforth, and offered his sympathies to her on Monday.
"On behalf of the American people, I offered Mrs. Goforth my condolences, and told her that Michelle and I would keep her and her family in our prayers," the president said in a statement. "I also promised that I would continue to highlight the uncommon bravery that police officers show in our communities every single day."
"They put their lives on the line for our safety. Targeting police officers is completely unacceptable - an affront to civilized society," Obama said.
(H/T: WFAA-TV)
–
Follow Jon Street (@JonStreet) on Twitter
Want to leave a tip?
We answer to you. Help keep our content free of advertisers and big tech censorship by leaving a tip today.
more stories
Sign up for the Blaze newsletter
By signing up, you agree to our
Privacy Policy
and
Terms of Use
, and agree to receive content that may sometimes include advertisements. You may opt out at any time.