UPDATE 2:46 p.m. ET: Republican presidential candidate Mike Huckabee said Davis has "shown more courage" than most politicians during a press conference following her release from jail.
"If somebody needs to go to jail, I'm willing to go in her place," the former Arkansas governor said.
"If somebody needs to go to jail, I'm willing to go in her place." - Mike Huckabee, pic.twitter.com/nm5794veg9

— Chris Geidner (@chrisgeidner) September 8, 2015
Davis' lawyer said she plans to immediately go back to work and will still "not violate her conscience."
Davis did not speak during Monday's press conference but appeared emotional throughout. She is expeted to address the rally later Monday afternoon.
Praise God Kim has been released! https://t.co/Ev47wkemvD #ImWithKim pic.twitter.com/pHRqajimE3

— Ted Cruz (@tedcruz) September 8, 2015
I was honored to meet w/ #KimDavis. A woman of such strong faith and conviction. #ImWithKim #ReligiousLiberty pic.twitter.com/RhcaENaA6i

— Gov. Mike Huckabee (@GovMikeHuckabee) September 8, 2015
UPDATE 2:40 p.m. ET:
Kim Davis' attorney Mat Staver said during a press conference following her release that the "court order did not resolve the underlying issue."
"We are pleased that Kim Davis has been ordered released. She can never recover the past six days of her life spent in an isolated jail cell, where she was incarcerated like a common criminal because of her conscience and religious convictions," Staver said in a statement. "She is now free to return to her family, her coworkers and the office where she has faithfully served for the past 27 years. We will continue to assist Kim and pursue the multiple appeals she has filed."
Republican presidential candidate Ted Cruz, who went to the rally to support Davis, posted a brief statement to his Facebook page following the news of her release and called her arrest "fundamentally wrong."
"Praise God that Kim Davis is being released," Cruz said. "It was an outrage that she was imprisoned for six days for living according to her Christian faith."
Original story below
The judge who ordered defiant Rowan County Clerk Kim Davis to jail last week for refusing to issue gay marriage licenses has subsequently ordered her release from the custody of the U.S. Marshal.
And it comes with a demand: that Davis stop interfering in the licensing of same-sex nuptials.
"Defendent Davis shall be released from the custody of the U.S. Marshal forthwith," read an order from U.S. District Judge David Bunning. "Defendant Davis shall not interfere in any way, directly or indirectly, with the efforts of her deputy clerks to issue marriage licenses to all legally eligible couples."
The court document, dated September 8, goes on to say that Davis risks sanctions if she in any way prevents licenses from being issued.
JUST IN: Judge orders Kentucky clerk Kim Davis to be released from custody pic.twitter.com/ljL4xS3Jf3 (@chrisgeidner)

— TheBlazeNOW (@TheBlazeNOW) September 8, 2015
The five clerks who had begun to grant gay marriage licenses in the wake of Davis' arrest last week will continue to do so, and will provide a status report to the court every 14 days in an effort to ensure that all proper and legal licensing is unfolding.
As TheBlaze previously reported, Davis' attorneys had filed an emergency motion seeking her release on Monday, asking Kentucky Gov. Steve Beshear to act; the Democratic governor had previously said that the legal conundrum was between Davis and the courts.
Davis' release came as she and her attorneys indicated that she would not be backing down, and seemingly planned to stay in jail until an accommodation was made or a judge released her.
Mat Staver, her lawyer, said at a press conference on Friday that Davis does not believe that gay marriage licenses issued during her detainment are legal.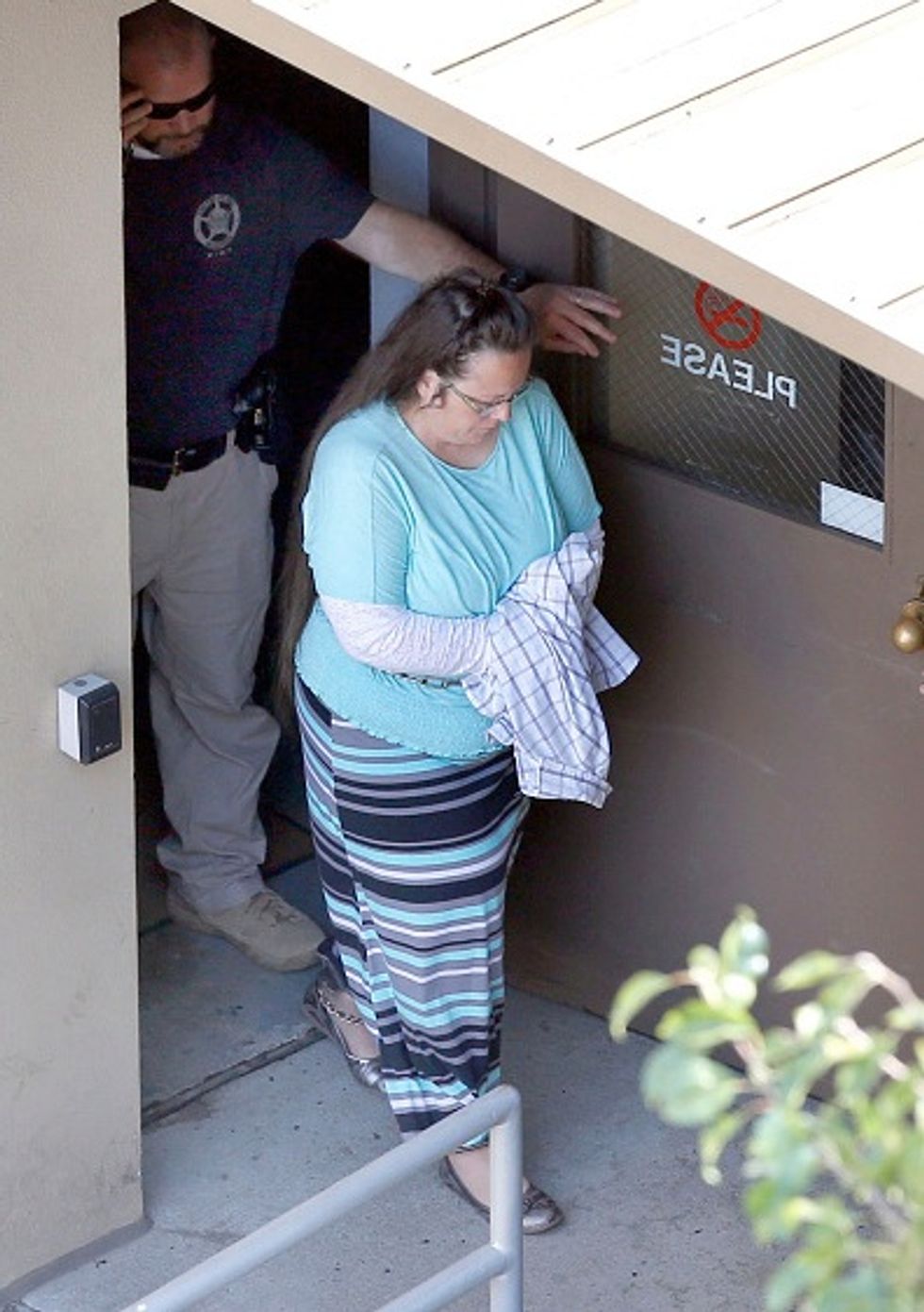 Rowan County Clerk Kim Davis, with leg shackles visible, is led away in custody from the Carl D. Perkins Federal Building in Ashland, Ky., on Thursday, Sept. 3, 2015. Davis was found guilty by U.S. District Judge David Bunning of contempt of court for refusing to issue marriage licenses. (Image source: Charles Bertram/Lexington Herald-Leader/TNS via Getty Images)

"It is our position and the position of the clerk … that those licenses are void," Staver said outside a Kentucky jail. "They're not worth the paper that they are written on."
News of her ordered release came just before presidential candidates Mike Huckabee and Ted Cruz were expected to meet with her at the jail.
This is a breaking news story. Stay tuned for updates.