Wisconsin Gov. Scott Walker said he will take the fight that made him a national figure to the White House on his first day as president – only this time battling federal employees.
Speaking at Eureka College, the alma mater of former President Ronald Reagan, Walker said he would seek to prohibit mandatory union dues for federal employees.
"We are going to tell the American people what we are going to do when it comes to taking on the big government union bosses, what we're going to do to take power out of the hands of the big government union bosses and put it firmly in the hands of the American people," Walker said.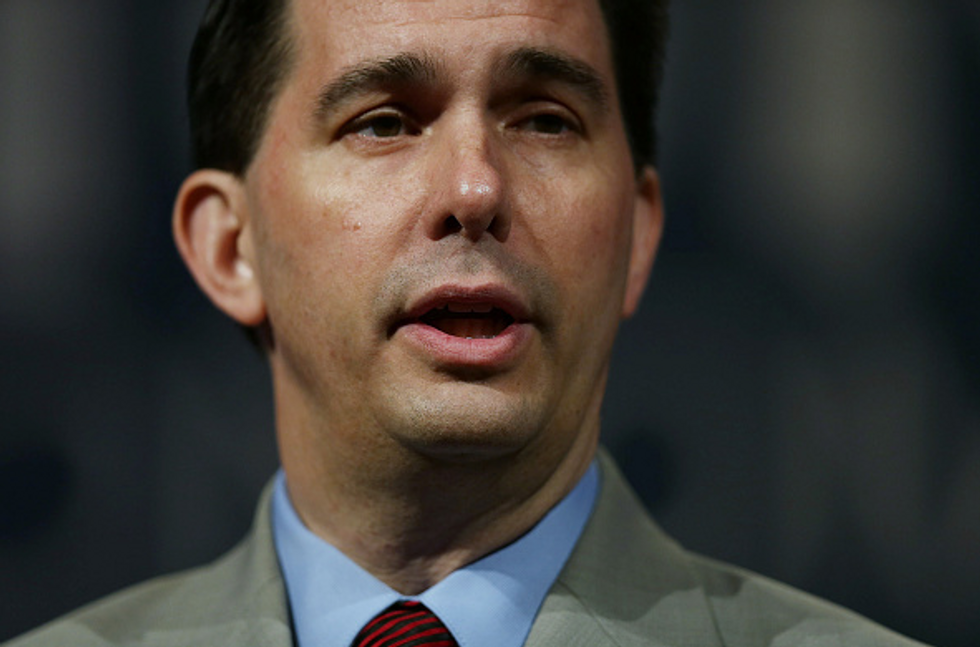 (Joe Raedle/Getty Images)
Invoking Reagan, Walker declared that he is a Washington outsider ready to "wreak havoc on Washington" if elected president. He pointed to his record in Wisconsin of reigning in public pension costs, battling state employee unions and winning three times in a blue state over four years.
Walker said he would be announcing a new major reform each week; he said he will provide more detail into the plan regarding federal unions on Monday at a town hall meeting in Las Vegas, but still offered a glimpse.
"On day one, I'm going to stop the government from taking money out of the paychecks of federal employees for political union dues," Walker said. "Why should you have money from your paycheck go to somebody that you fundamentally oppose? That's wrong."
He continued, "We are going to start with that on day one and we are going to lay out more when it comes to shifting the power from union bosses to the hardworking people of this country."
Walker repeated his earlier vow that on his first day in office, he will roll back President Barack Obama's executive actions on immigration and terminate the Iran nuclear deal. He also said he would submit a plan to Congress to repeal and replace Obamacare.
"I'm here to announce today that we've got a plan to wreak havoc on Washington and our plan starts from day one," Walker said. "My promise to all of you here and to everyone else across America is that every week, starting next week, we are going to lay out another one of our reforms, another one of our big bold reforms, starting from day one."