Donald — Donnie — Grooms lost his job in St. Louis in a layoff on April 30.
After nearly five months of looking and exhausting every possible avenue he could think of, on Wednesday he put on a blue button-down and red tie, printed off 800 resumes and stood on the side of the road outside of Busch Stadium, home of the St. Louis Cardinals.
Unorthodox? Definitely. But he was hoping it might get him a business card or two, a lead — something.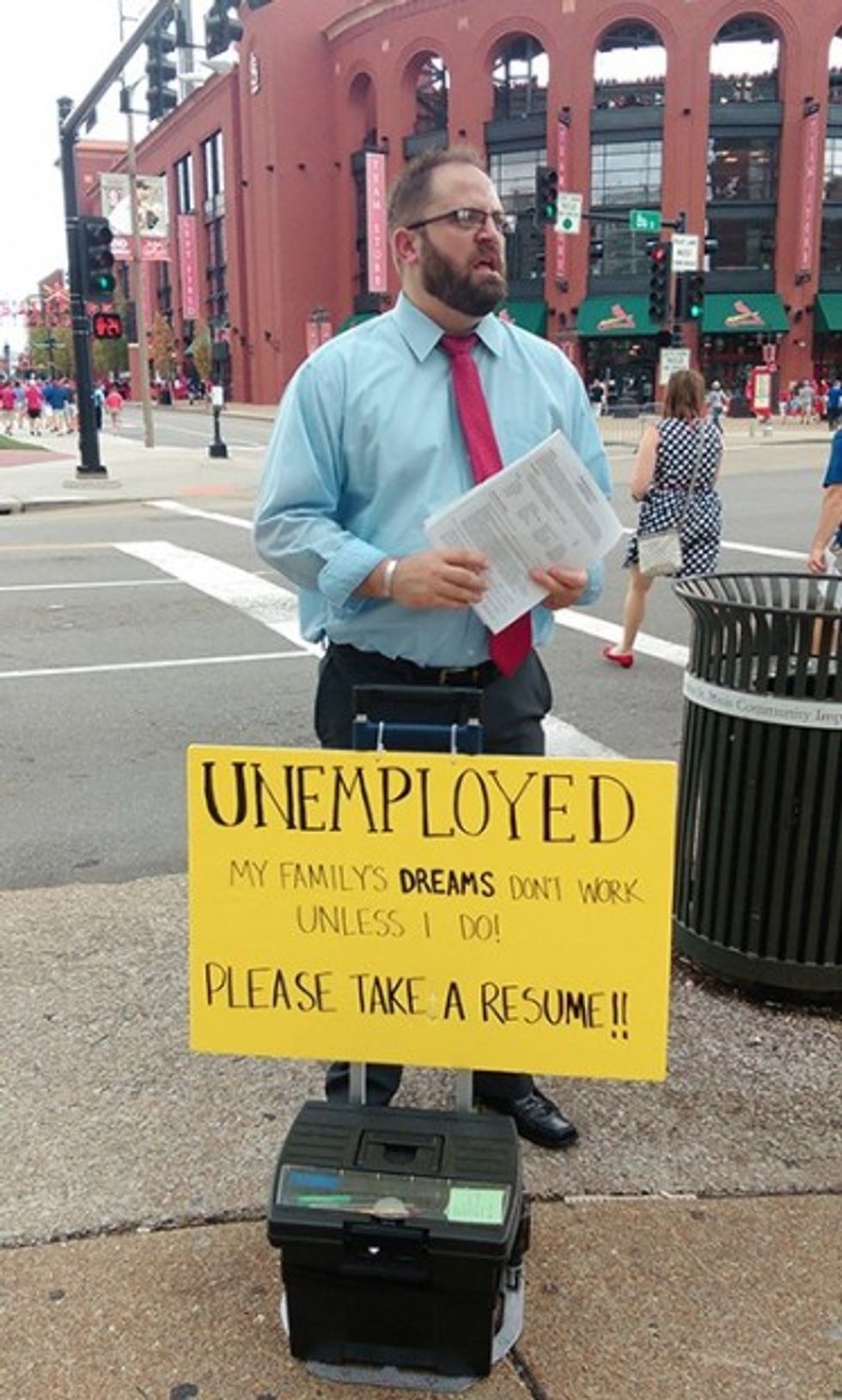 Donnie Grooms stood outside Busch Stadium with a stack of resumes. He didn't think his stunt to pass them out went well, but then he learned his picture was going viral. This picture, Grooms said, was snapped on his phone by a local tour guide named Matthew Fanning. (Photo courtesy Donnie Grooms)
At the end of the day, he only handed out about 40 resumes. Disappointed and feeling defeated, he told TheBlaze that he went home to his wife with his tail between his legs.
But she knew something he didn't.
"She was like, 'My phone is blowing up. My Facebook is blowing up,'" he said.
A picture Grooms had taken of himself as he stood on the side of the road with his resumes in hand and a sign strapped to his case was starting going viral, becoming what would be known as #FindDonnieAJob.
The picture of Grooms and his sign — "UNEMPLOYED – My Family's Dreams Don't Work Unless I Do! Please Take a Resume!!" — had over 2.5 million views within 12 hours of being posted to the social news site Reddit and to Instagram. His LinkedIn profile has been visited more than 500 times and he says he received several possible leads that he still has to evaluate the legitimacy of. Possible opportunities have come in front around the country and the world, but he's really hoping to stay in the St. Louis area.
So what field is Grooms looking in?
He describes himself as a "jack of all trades" who is over-educated in some respects. Though he has a doctorate in chiropractics, he said he's not looking to be directly in the field. He'd like to teach or do research that's related, but in the end, he said, he's "looking for a job that will support my family."
Overall, Grooms said the job-seeking experience has been eye-opening to him, adding that since the last time he was on the market things have changed in how people apply for jobs and how resumes are evaluated.
He's applied to positions online, refined his LinkedIn profile, made the connections he can and has been left "trying to think outside the box."
Grooms said is "overwhelmed" and he never expected his picture to go viral and now hopes that it helps him locate a position that will allow him to support his family.