Republican presidential candidate Donald Trump unloaded on his GOP rival Ben Carson on Thursday – but it was one specific criticism that brought a stunned look over CNN anchor Chris Cuomo's face.
"He makes [Jeb Bush] look like the Energizer Bunny," Trump said of his GOP primary opponent.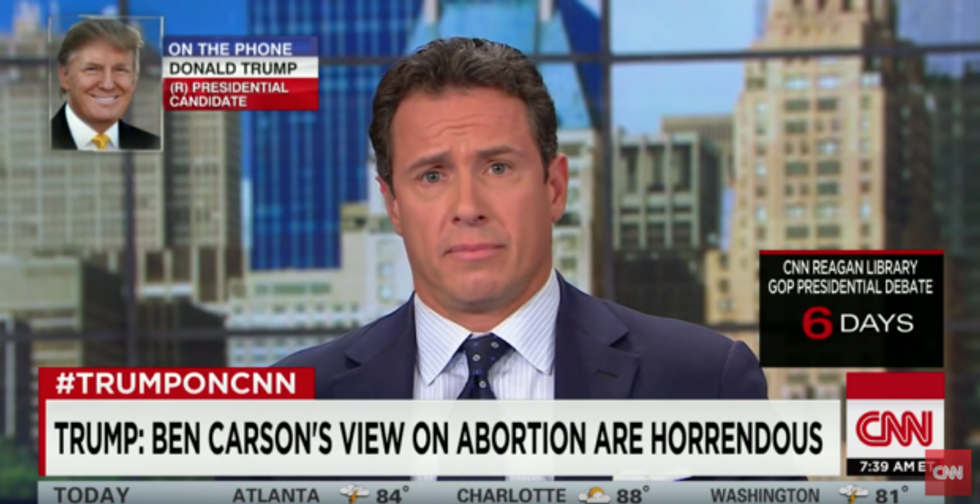 Image source: YouTube
"But Ben Carson, you look at this faith and I don't think you are going to find so much. And you look at his views on abortion, which were horrendous," he said.
The billionaire businessman also took aim at Carson's medical career, saying that he is only an "OK doctor," despite the fact that Carson was the first man to surgically separate conjoined twins at the head.
"He was a doctor, perhaps an okay doctor, by the way," Trump said. "You can check that out too. He was an OK doctor, and now because he's a doctor and he hired one nurse he's going to be end up being the president of the United States?"
That was the comment that left Cuomo with a stunned look on his face – and he was quick to challenge Trump on that claim.
"I don't know about 'OK doctor.' You know, he was the first man to separate conjoined twins," Cuomo shot back.
You can see more of the exchange via CNN:
–
Follow Jon Street (@JonStreet) on Twitter