President Barack Obama said the United States must step up and take its share of Syrian refugees fleeing the war torn country, but blamed Russia for making the crisis worse.
"We have to work with our European partners on this issue. The Syrian crisis not just European crisis, it's a world problem," Obama said Friday at a town hall meeting for military service members held at Fort Meade, Maryland that went to military bases across the world. "We have got to do our part, first of all in taking some of these refugees."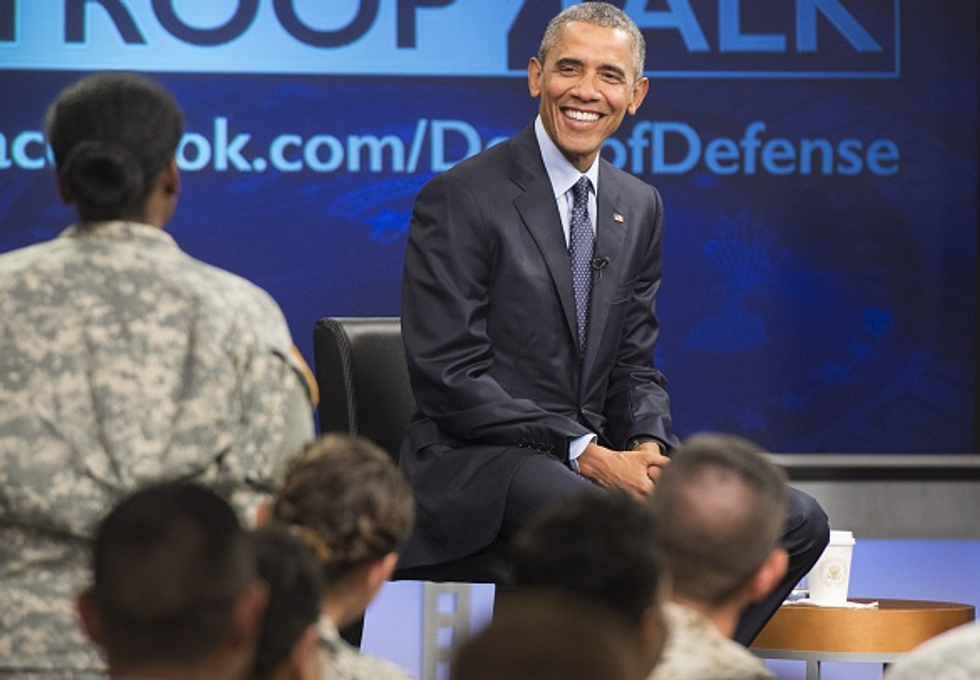 President Barack Obama laughs during the 'Worldwide Troop Talk,' a town hall with US members of the military around the world broadcast from Fort Meade in Maryland, September 11, 2015, on the 14th anniversary of the 9/11 attacks on the United States. (SAUL LOEB/AFP/Getty Images)
Obama criticized Russian President Vladimir Putin's support and assistance to Syrian dictator Bashar Assad's regime.
"I remember a conversation I had with Mr. Putin four or five years ago that that was a mistake, it would make things worse, as long as he continued to support Assad. He did not take my warnings, as a consequence things have gotten worse," Obama said. "We are going to be engaging Russia, to let them know that you can't continue to double down on a strategy that is doomed to fail."
Obama said Assad must be transitioned out of power because the instability he created allowed the Islamic State to fill a leadership vacuum.
"The only way to maintain order is through political negotiations and settlement, that's where the Russians are going to have to get a little smarter," Obama said.
The administration announced Thursday it would be taking up to 10,000 Syrian refugees in the country fleeting brutality from the civil war against Syrian dictator Bashar Assad, but also the rise of the Islamic State in the country.
"Anybody who is a parent understands that stirs all of our conscience," Obama said.
Several European countries have already been taking tens of thousands of fleeing refugees.
Obama said that he has been in touch with European leanders, but he added that "It's important for us to go to the source." Obama said he would push the United Nations General Assembly set to meet at the end of the month to take a more collective response.
"The refugee crisis is prompted by collapse of governance in Syria, the growth of ISIL and the cruelty Assad perpetrating on his own people," Obama said.