Pace University's football captain was suspended from the team after a photo of him posing in Confederate flag garb while making a Nazi salute was released to media outlets.
The photo of Tyler Owens, a senior defensive lineman, is a screenshot of a Snapchat post and captioned, "The grand wizard." According to the Pace Chronicle, an alleged group of anonymous black students obtained the photo and sent it to the media.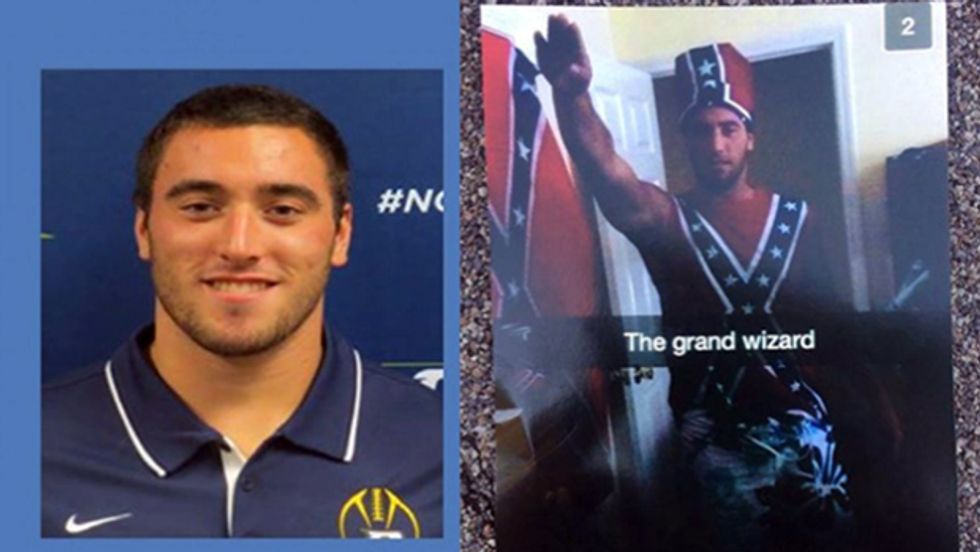 Image source: WCBS-TV
"As African Americans and Pace University students we are extremely offended and believe something should be done about this," the email to the Pace Chronicle, the university's newspaper, read. The group claimed the Snapchat photo had been sent out sometime last week.
Since the photo circulated, Stephen J. Friedman, president of the private school in New York City, released a statement which says the school has begun an investigation into the photo. Friedman also said Owens has been removed from Pace's football team and will not be allowed to participate in any football programs during the investigation.
"The photograph is highly offensive and contrary to the values of diversity, inclusiveness, and embracing the ethnic and cultural differences among students, faculty, and staff that are deeply held at Pace University and it's Athletics Department," Friedman said. "This is especially true at this time when states throughout the country are recognizing the symbolic offensiveness of displaying the Confederate flag and the importance of accepting those with different backgrounds is being sorely tested by the refugee crisis in Europe."
The university hosted an open forum to discuss the controversial image on Thursday where many students decried Owens' photo and actions, including a member of the school's Black Student Union who said that while the photo is racist in nature, it is unclear if Owens is racist himself.
"People do stupid things for stupid reasons," Chrystal Azatassou said. "If it does turn out that Owens had malicious intentions, then the BSU will make sure justice is served."
"We are shocked that a student in an athletic leadership role would pose for a photo wrapped in a Confederate flag making a Nazi salute," Evan R. Bernstein, Anti-Defamation League New York Regional Director said in a statement to WCBS-TV. "His behavior highlights the need for ongoing education to ensure that university students fully understand the roots of racism, anti-Semitism, and the consequences of unchecked bigotry and hate."
However, some Pace students have come out in Owen's defense, including a freshman student at the school's public forum who said that everybody has done something embarrassing in their past.
"[Owens has] done so much for me. People are taking a joke out of context, it was just a couple of guys messing around, they saw the [clothing], and jokingly put it on," Owen's former teammate, Addison Casey, told the Pace Chronicle.
Although he's been suspended from the team, Owen still remains on Pace's football team's roster online. According to his profile, Owen started every game in the 2014 season and tied with the national lead for number of blocked kicks. He was also a Northeast-10 All-Conference Second Team Defense selection for 2014.
Owens was also given a spot on the USA Football Preseason All-American Team during the summer.