A Texas high school football player was ejected from a game Saturday after he shoved a referee.
According to the San Antonio Express-News, St. Anthony High School quarterback Zeke Cardenas was involved in an altercation with an Austin Hyde Park High School player, which led to a penalty. Cardenas began to walk away after the call, but a referee approached him and threw another flag. That's when Cardenas shoved the official.
Cardenas was immediately restrained by his teammates who walked him off the field after the incident.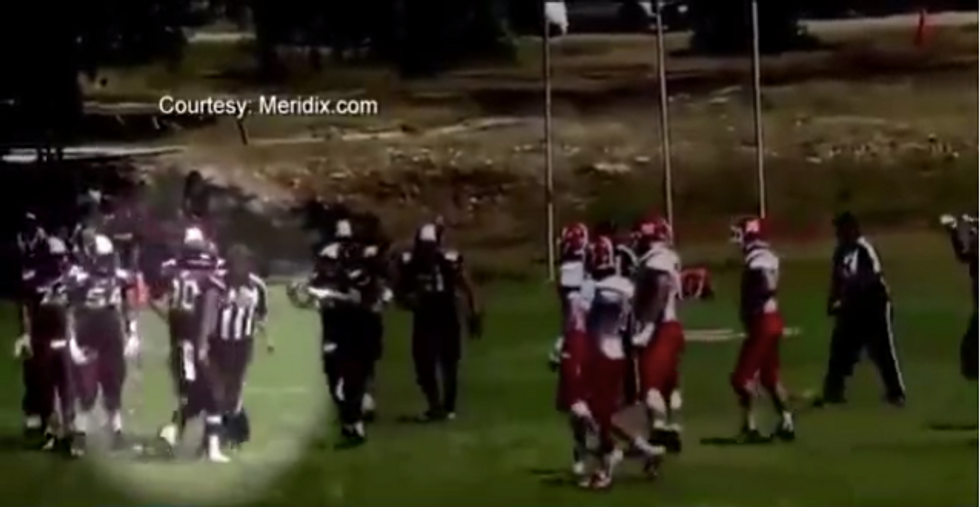 Image source: KXAN-TV
"Today's incident in which a football player shoved an official is troubling, not the sportsman like behavior we teach students at St. Anthony," a spokesperson for the University of the Incarnate Word, which runs the Catholic high school, said in a statement to the Express-News.
"Whatever happened was unfortunate, especially with whatever happened last week in Marble Falls," Hyde Park's Coach Dean Campbell said. "I spoke with the coaches after the game and I didn't really ask them what all they saw."
The Express-News reported that Campbell was not at the football game as he was recovering from a recent heart attack.
This weekend's altercation comes shortly after two John Jay High School football players were suspended for allegedly targeting a referee during a football game.
(H/T: San Antonio Express-News)