During a press conference to promote his new film, "Legend," British actor Tom Hardy shut down a reporter who asked about him about his sexuality.
"In the film, your character Ronnie is very open about his sexuality," a reporter identified as Graeme Coleman from the LGBT news site Daily Xtra asked. "But given interviews you've done in the past, your own sexuality seems a bit more ambiguous. Do you find it hard for celebrities to talk to media about their sexuality?"
"What on earth are you on about?" Hardy responded.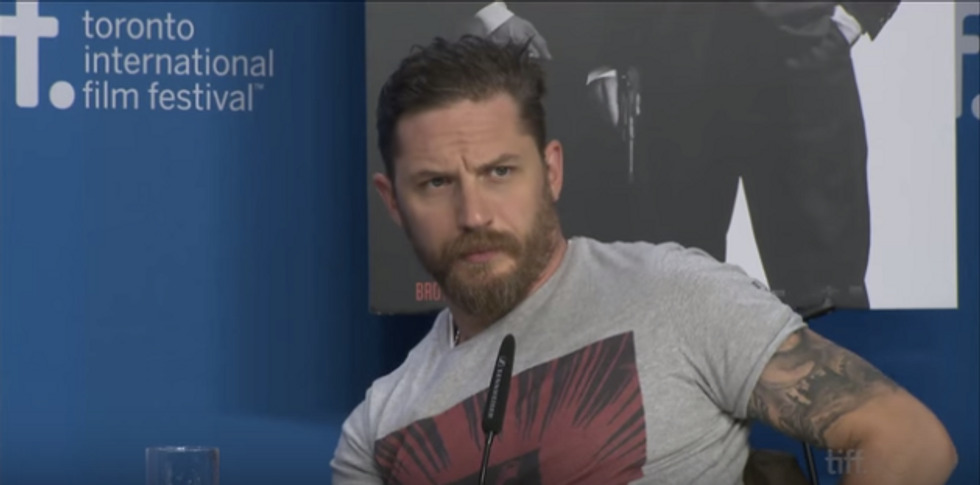 Image source: YouTube
"I don't find it difficult for celebrities to talk about their sexuality," Hardy eventually said. "Are you asking me about my sexuality?"
When Coleman affirmed that was the gist of his question, Hardy asked, "Why?"
As Coleman continued to stammer, Hardy simply said, "Thank you," and the press conference continued.
According to Gawker's Defamer, Coleman's question to Hardy was relevant "given the subject matter of 'Legend,' and it's relevant because of Hardy's own statements (and subsequent backpedaling) about his sexuality."
In Hardy's 2008 interview with the gay magazine Attitude, the actor admitted to having had sex with men in the past but said that at his current age he's finished "experimenting."
"I'm an actor for f***'s sake. I'm an artist. I've played with everything and everyone," Hardy told Attitude. "But I'm not into men sexually. I love the form and the physicality, but the gay sex bit does nothing for me."
The 2015 movie "Legend" is based on the book "The Profession of Violence: The Rise and Fall of the Kray Twins." There have been claims that the English gangsters were both gay.
Watch Hardy's exchange with Coleman below.
(H/T: Huffington Post)