The Republican National Committee has a new push to grow its grassroots support — and it's all about Wednesday's debate.
In an exclusive interview with TheBlaze Wednesday afternoon prior to the CNN Republican presidential debate, a RNC spokesperson said the political committee has deployed hundreds of paid staff members across the country to host more than 300 debate watch parties as way to "create relationships with neighborhood leaders and community activists" especially in key battleground states.
"We hope by engaging and creating relationships we can rely on their support as volunteers to help turn out voters for our eventual nominee," James Hewitt, deputy press secretary for the RNC, told TheBlaze.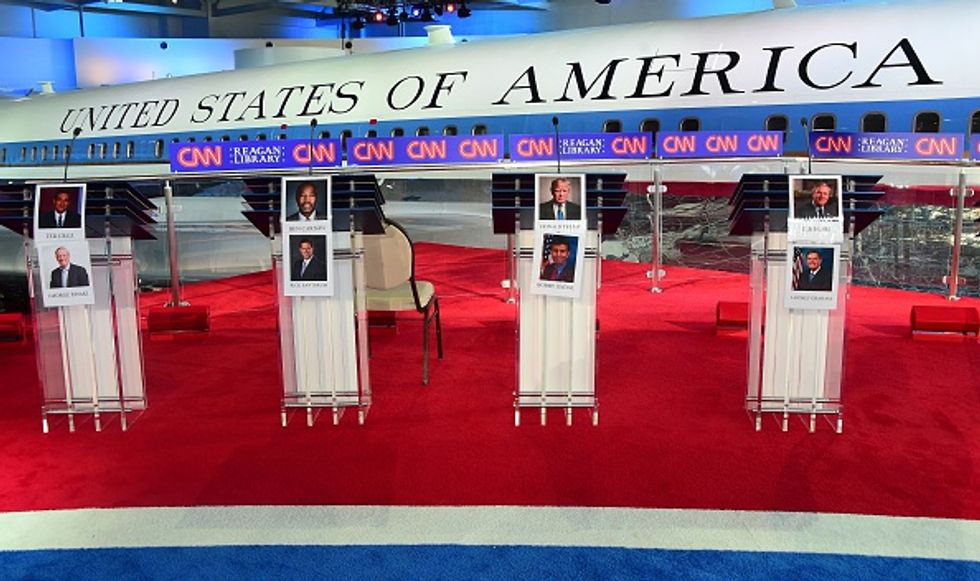 Portraits of candidates are placed on the podium in front Air Force One that flew President Reagan, ahead of today's Republican Presidential Debate at the Ronald Reagan Presidential Library in Simi Valley, California on September 16, 2015. AFP PHOTO /FREDERIC J.BROWN (Photo credit should read FREDERIC J. BROWN/AFP/Getty Images)
As the RNC did not have a national infrastructure at this point four years ago during the last presidential election, the watch party endeavors are brand new for the organization. And even though they won't have complete tally until after the debate is finished, Hewitt said the RNC expects thousands of voters and potential volunteers to attend the gatherings. 
"We are harnessing the energy, support, and interest for the GOP field to engage and recruit volunteers and staff around the country," RNC Chairman Reince Priebus told TheBlaze in a statement. "Our nationwide field operation allows us to organize earlier than ever before, something no other committee or organization is doing right now."
Priebus added that "over the coming days and weeks we will activate this growing team to register voters, engage diverse communities, and prepare for our nominee in 2016."
The RNC watch parties will be held in: Arizona, Colorado, Florida, Iowa, Michigan, North Carolina, New Hampshire, New Mexico, New York, Nevada, Ohio, Pennsylvania, Texas, Virginia and Wisconsin.
Despite the fact that some of those states have representatives who are vying to be the Republican nominee, Hewitt said none of the parties will be specifically dedicated to a certain candidate as the RNC does not involve itself in primaries.
"This is a way of getting supporters together and engaging with community early on," Hewitt said.
Meanwhile, a group Democrats protested the lack of debates among Democratic candidates on Capitol Hill Wednesday.
"DNC Chair Debbie Wasserman Schultz is unilaterally defying the will of Democratic voters, Presidential candidates, and the DNC's own Vice-Chairs," the founder of the group #AllowDebate told the Weekly Standard. "Her dictatorial suppression of free and open debate is an attack on the democratic process."
According to the group, there were 26 Democratic primary debates for the 2008 campaign.
CNN's Wednesday debate will feature Donald Trump, Ben Carson, Carly Fiorina, former Florida Gov. Jeb Bush, Florida Sen. Marco Rubio, Texas Sen. Ted Cruz, Ohio Gov. John Kasich, Wisconsin Gov. Scott Walker, Kentucky Sen. Rand Paul, New Jersey Gov. Chris Christie and former Arkansas Gov. Mike Huckabee on the main stage.