Dr. Ben Carson said he would not "advocate" for a president of Muslim faith Sunday morning.
Appearing on "Meet the Press" Sunday morning, Carson told NBC's Chuck Todd that a president's faith should matter to voters if that faith is "inconsistent with the values and principles of America."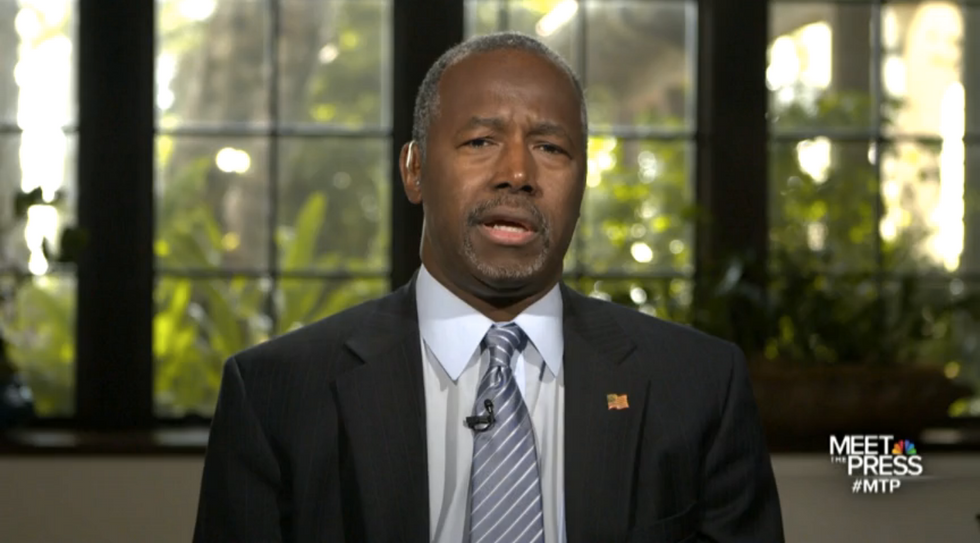 Image source: NBC News
"If it fits within the realm of America and [is] consistent with the Constitution, no problem," Carson said of a president's personal faith.
When Todd pressed further and asked if Carson, who is polling third among Republican presidential contenders according to a new CNN/ORC poll, thinks Islam is consistent with the Constitution, the retired neurosurgeon said he "absolutely would not agree with that."
"I would not advocate that we put a Muslim in charge of this nation," Carson said.
The faith of presidents — both for the current president and future presidents — has been a topic of conversation among the vast field of presidential contenders after Republican frontrunner Donald Trump did not correct an audience member who called President Barack Obama a Muslim during a rally. Trump has since said he didn't feel an "obligation" to correct the unidentified man.
Trump also said on "Meet the Press" Sunday that some people have said the country has already had it's first Muslim president, referring to Obama.
"I don't talk about people's faith. Now, in all fairness, he said he was a Christian and he said he is a Christian," Trump said. "He attended the church of Rev. Wright. And so, you know, I'm willing to take him at his word for that. I have no problem with that."
Texas Sen. Ted Cruz said that Obama's faith "is between him and God" while campaigning in Iowa.
Sen. Rand Paul of Kentucky also addressed the topic while on CBS' "Face the Nation" Sunday morning.
"I try to see that as a separate thing — someone's religion," the Republican presidential hopeful said. "But I just think it's hard for us, we were attacked by people who were all Muslim."
Paul went on to say that it's "incumbent" for "civilized Islam" to step up more in order to distance themselves from the more radical Islamists.
We asked Rand Paul: Would you be comfortable with an Muslim president? http://t.co/SFHDxnoQbE

— Face The Nation (@FaceTheNation) September 20, 2015