Republican presidential frontrunner Donald Trump was grilled Sunday regarding his reluctance to correct a comment deriding Muslims several days ago as well as his views on President Obama's faith and place of birth.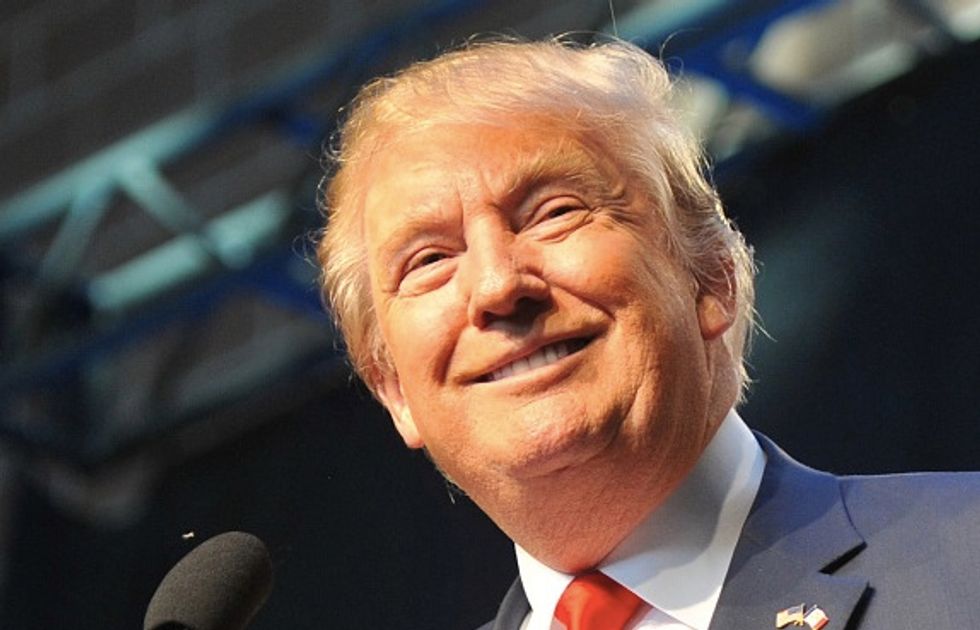 Republican Presidential Candidate Donald Trump speaks at the Iowa Faith & Freedom Coalition 15th Annual Family Banquet and Presidential Forum held at the Iowa State fairgrounds on September 19, 2015 in Des Moines, Iowa. (Steve Pope/Getty Images)
Jake Tapper, host of CNN's "State of the Union," called an audience member's comment — "we have a problem in this country; it's called Muslims" — at a Thursday rally for Trump "raw, unvarnished, ignorant bigotry."
"You are a leader," Tapper said. "You're the frontrunner in the Republican race. Do you not have a responsibility to call out this hatred?"
Trump suggested he could be "politically correct" and then asked, "Are you trying to say we don't have a problem? Because I think everybody would agree ... we certainly do have a problem. I mean, you have a problem throughout the world."
"What's the problem?" Tapper pressed.
"Well, you have radicals that are doing things," Trump answered. "I mean, it wasn't people from Sweden that blew up the World Trade Center, Jake."
Tapper noted the difference between saying Muslims are a problem versus radical Muslims, then flipped the table.
"What if he said, 'We have a problem in this world; it's called blacks,'" Tapper said. "Would you have said something then?"
"No," Trump said. He later added, "But no, we have a problem with radical Muslims. There's no question about that. I think you'd be the first to admit that."
Here's a portion of Trump's interview with Tapper:
An interview with George Stephanopoulos on ABC News' "This Week" focused mostly on Trump's views regarding President Obama's place of birth and faith.
"So, for the record, was President Obama born in the United States?" Stephanopoulos asked.
Trump said, "It's just something I don't talk about."
After further back and forth, Stephanopoulos countered, "But you raised these questions so often in the past, why can't you just say definitively yes or no, President Obama [was] born in the United States — you raised it many times — and he's not a Muslim?"
"George, you have raised the question," Trump responded. "I haven't raised the question. I don't talk about it. And I don't talk other people's faith ... Not appropriate for me to talk about somebody else's faith."
Trump on Saturday posted a series of tweets addressing that same audience member who added that Obama is a Muslim; Trump countered that he's not "morally obligated to defend the president every time somebody says something bad or controversial about him."
When Stephanopoulos brought up the issue of Muslims in general, Trump took a similar approach as with his interview with Tapper.
"You look around the world, it is a problem," he said. "If I want to say, 'Oh no, not at all,' people would laugh at me. Now, it may be the right thing to say. And I really don't care what the right thing to say is. Certainly what's happening with some Muslims and, you know, the terrorism and everything else, it seems pretty much confined there. So it is a problem. We can say no, but it is."
Here's a portion of Trump's interview with Stephanopoulos:
This story has been updated.
—
Follow Dave Urbanski (@DaveVUrbanski) on Twitter