Outspoken atheist biologist Richard Dawkins took to Twitter Sunday questioning 14-year-old Ahmed Mohamed's clock "invention" and his motive for creating it.
Mohamed was arrested last week over fears that he had brought a bomb to school. While many, including President Barack Obama, rallied to the Texas teen's defense, others have defended the authorities' actions.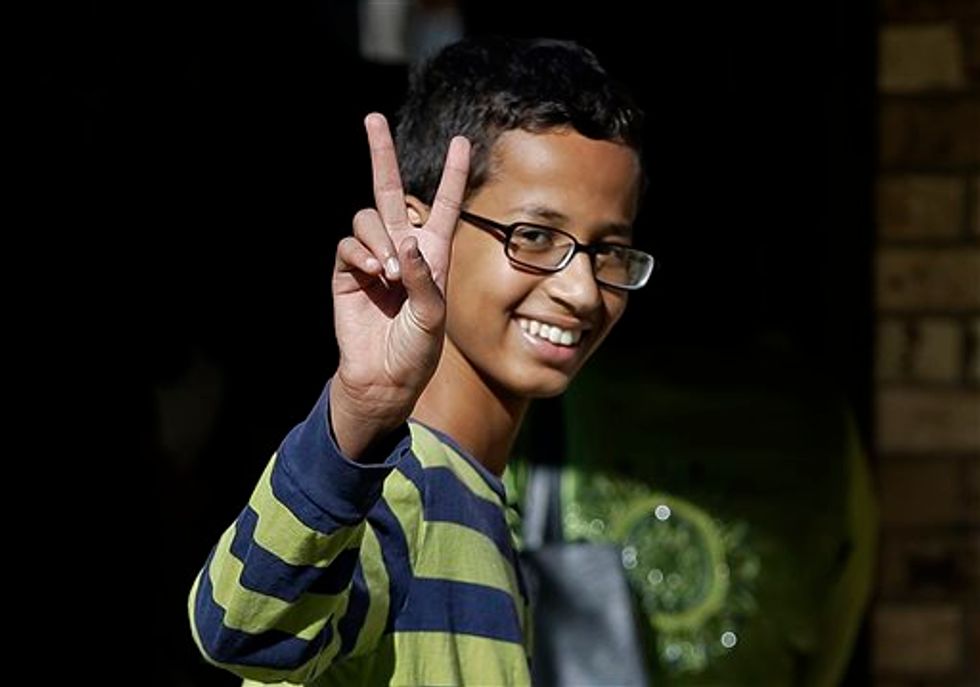 Ahmed Mohamed, 14, gestures as he arrives to his family's home in Irving, Texas, Thursday, Sept. 17, 2015. Ahmed was arrested Monday at his school after a teacher thought a homemade clock he built was a bomb. (AP/LM Otero)
Citing a YouTube video posted by Thomas Talbot that says Mohamed didn't actually invent or build the clock, Dawkins wondered, if this is true, what Mohamed's motive for bringing the device to school was.
If this is true, what was his motive? Whether or not he wanted the police to arrest him, they shouldn't have done so https://t.co/LtOFAAmVxK

— Richard Dawkins (@RichardDawkins) September 20, 2015
Talbot, in his video, says the device Mohamed put in the metal case was a "commercial alarm clock that you would purchase at any department store and use at your bedside."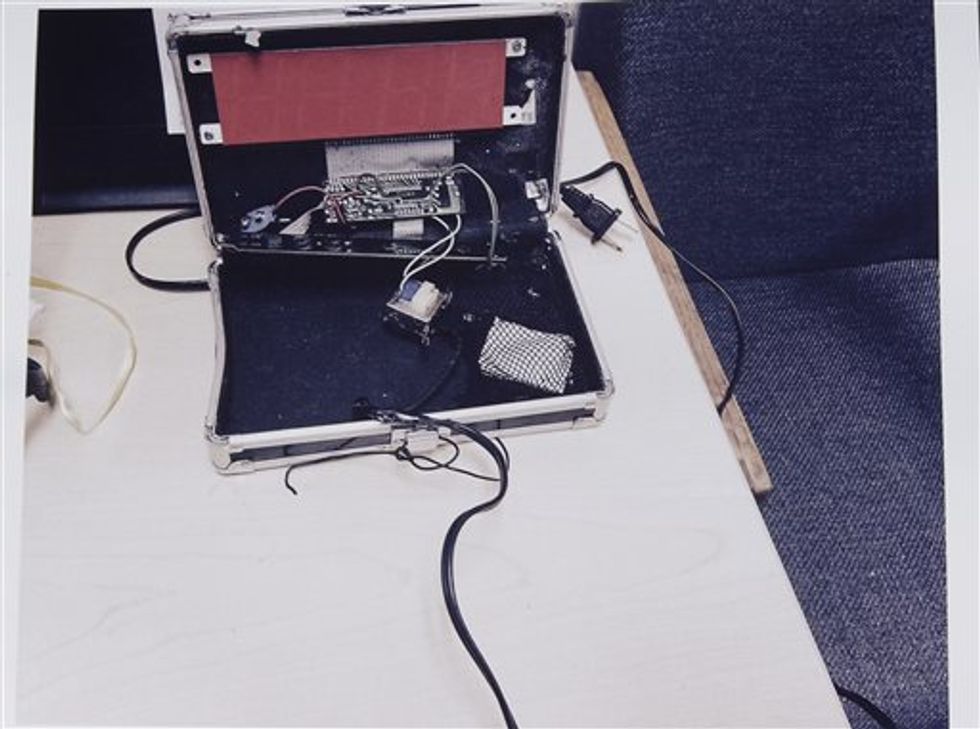 This photo provided by the Irving Police Department shows the homemade clock that Ahmed Mohamed brought to school. Police detained the 14-year-old Muslim boy after a teacher at MacArthur High School decided it looked like a bomb, according to school and police officials. Mohamed's family said the boy was suspended for three days from the school in the Dallas suburb. (Irving Police via AP)
"All that he did was remove the plastic case from the alarm clock," Talbot said. "This is not an invention. This is not something that someone built or even assembled and I can show you the difference."
Watch Talbot's video for more:
In light of this video, Dawkins unleashed a slew of tweets and in many of them reiterated that the teen did not deserve to be arrested:
Yes, there are other reasons why a boy might take a clock out of its casing & pretend he'd made it. Trying to impress teachers, for instance

— Richard Dawkins (@RichardDawkins) September 20, 2015
If the reassembled components did something more than the original clock, that's creative. If not, it looks like hoax http://t.co/bBcaWoJpbd

— Richard Dawkins (@RichardDawkins) September 20, 2015
Disassembling & reassembling is great. But you shouldn't then claim it was your "invention". http://t.co/bBcaWoJpbd

— Richard Dawkins (@RichardDawkins) September 20, 2015
OK, fraudulent claiming of an "invention" is not heinous. And he certainly should not have been arrested by the police.

— Richard Dawkins (@RichardDawkins) September 20, 2015
Sorry if I go a bit over the top in my passion for truth. Not just over a boy's alleged "invention" but also media lies about J Corbyn.

— Richard Dawkins (@RichardDawkins) September 20, 2015
I agree, that is most plausible. We were all fooled, and arresting him was wrong. Like searching shoes at airports. https://t.co/oHcLfMSVqy

— Richard Dawkins (@RichardDawkins) September 20, 2015
I'm not putting down the child. I'm putting down myself & the rest of us for being fooled. And the police for arresting him for nothing.

— Richard Dawkins (@RichardDawkins) September 20, 2015
In addition to the above YouTube video, Anthony DiPasquale with Artvoice.com composed a post, which is not available as of the time of this posting, writing "there has indeed been a hoax," the Daily Beast reported. That hoax being that "Ahmed Mohamed didn't invent his own alarm clock. He didn't even build a clock," DiPasquale wrote.
He told the Daily Beast that he looked into the clock because "the nerd in me wanted to know specifically what he did—what technology or methods he might've used." That's when he discovered it was likely a store-bought clock.
"Here we have a social media frenzy going on, with everybody to the president of the United States giving him a pat on the back, and I started thinking less about the clock, and more about us, as a society," he told the Daily Beast.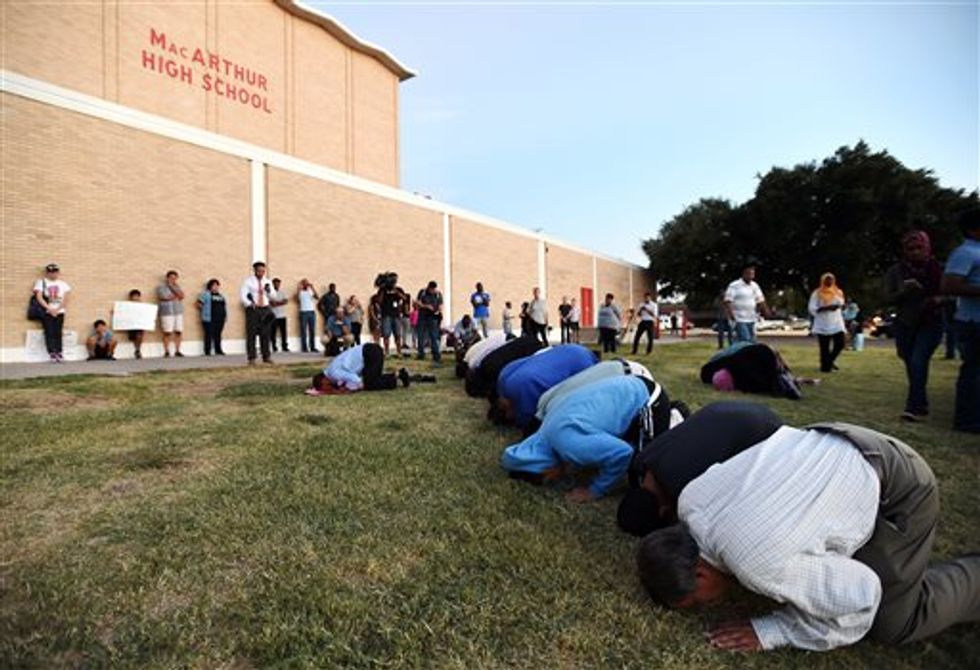 Muslims pray in front of MacArthur High School at a prayer vigil in support of Ahmed Mohamed, Thursday, Sept. 17, 2015, in Irving, Texas. (AP/Jeffrey McWhorter).
In his original post, DiPasquale also questioned some other points of Mohamed's story as well:
In one interview, for example, Mohamed says he closed the pencil case with a cord so it wouldn't look suspicious in school.

"I'm curious, why would 'looking suspicious' have even crossed his mind before this whole event unfolded, if he was truly showing off a hobby project, something so innocuous as an alarm clock. Why did he choose a pencil box, one that looks like a miniature briefcase no less, as an enclosure for a clock?" DiPasquale wrote.
After his arrest, Mohamed's parents told KXAS-TV that they believed their son was discriminated against because he was Muslim.
(H/T: Huffington Post)