Marine Capt. Jason Haag, his wife and his dog Axel were left stranded in Los Angeles overnight Sunday, without their luggage, because American Airlines employees didn't believe Haag when he told them Axel was a service dog. The incident occurred the same day Axel had been named Service Dog of the Year at the American Humane Association Hero Dog Awards .
They were about to board their flight from Los Angeles International Airport to Ronald Reagan National Airport in Washington when an agent pulled them out of line and started questioning whether Axel was a real service dog. Haag, who served two tours of duty in the Middle East, has the dog to help him cope with his traumatic brain injury and post-traumatic stress disorder.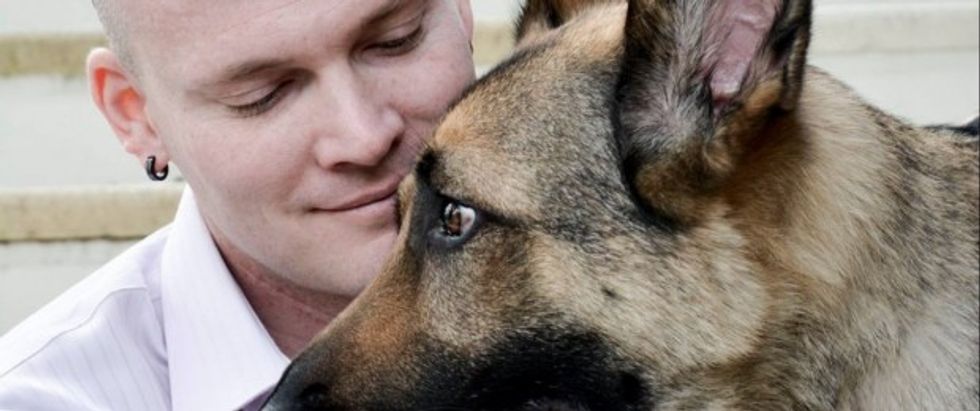 Jason Haag and his service dog, Axel. (Image source: K9s for Warriors via the Daily Caller)
Haag said everything was fine as they arrived, checked in at the ticket counter and went through security. It wasn't until they had eaten lunch and sat down near their gate that there was an issue, the Washington Free Beacon reported.
"Then about five minutes before we were supposed to board, I got pulled out of line," Haag said. "[The agent] called me up to the ticket counter, and the first thing out of his mouth was, 'Is that a real service dog?'"
Haag answered yes but was then told that Axel wasn't showing up in the system. That's when Haag reminded employees that he had flown with Axel just three days ealier without any problem.
But employees still weren't convinced.
"He's like, 'Well, what's your disability?' and I was like, 'Excuse me?' because that's not a question you're allowed to ask under the rules and regulation. Then he started firing off questions in rapid succession," Haag told the Free Beacon.
With the plane about to leave, Haag even offered to have the American Humane Association or K9s for Warriors speak with the airline employees, but they still refused to let him on. Their flight left Los Angeles without them, leaving them stranded thousands of miles away from home without their luggage.
The airline also refused to put them up in a hotel for the night.
But Robin Ganzert, CEO of the American Humane Association, showed up to give the Haags and Axel a ride to the Beverly Hilton, where the Service Dog of the Year awards were held earlier that day. Ganzert also gave them clean clothes and food. In all, Ganzert said the organization paid more than $1,500 in extra expenses, which it is asking American Airlines to grant as a credit.
"We take these matters very seriously and are looking into what exactly occurred," American Airlines spokeswoman Andrea Huguely told the Free Beacon Monday. "Even though there was an issue with Haag's and Axel's travel, we are very happy to say that Haag, his wife, and Axel traveled with us, once again, today."
"We have apologized to both Haag and his family and are very appreciative of his service to our country," Huguely added.
–
Follow Jon Street (@JonStreet) on Twitter