CHRISTIANBURG, Va. (TheBlaze/AP) -- A Virginia television reporter has been granted a protective order after he says a man made a shooting motion at him about a week after the on-air killings of two TV journalists from a neighboring station.
The Roanoke Times reports that Duke Carter, a reporter for Roanoke station WSLS-TV, obtained a protective order Wednesday against 28-year-old Donald "Donnie" Visel Jr. in Montgomery County Court.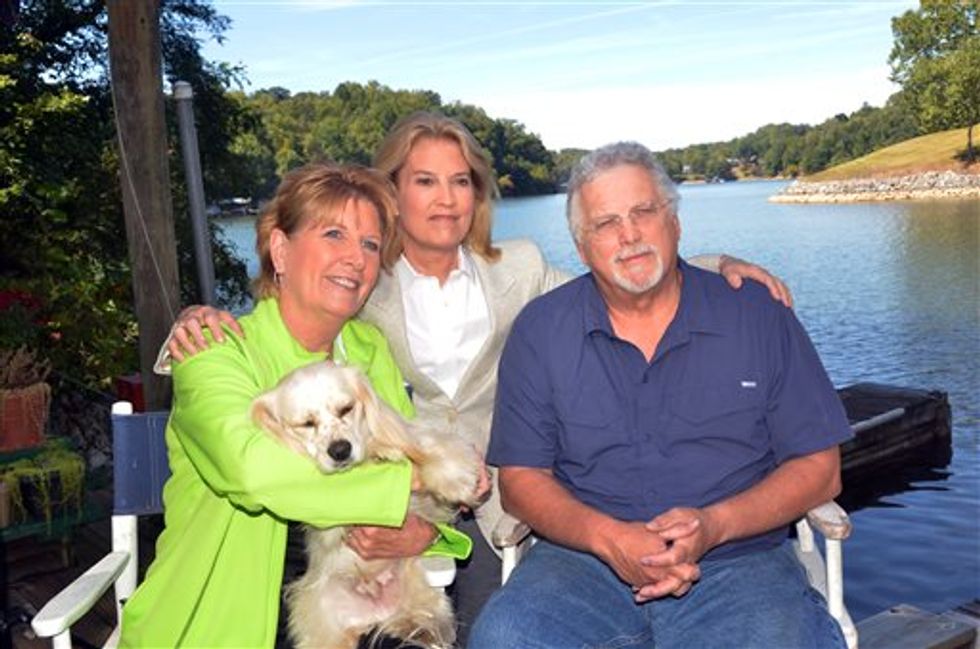 In this photo provided by Fox News, Smith Mountain Lake Chamber of Commerce executive director Vicki Gardner, left, who survived an on-air shooting that killed two TV journalists, poses for a photo with Fox News' Greta Van Susteren, her husband Tim Gardner, right, and their dog named Buddy, Tuesday, Sept. 15, 2015, in Moneta, Va. (Fox News/On The Record via AP)
On Sept. 5, Carter said he was reporting on a fundraiser for WDBJ shooting survivor Vicki Gardner when Visel drove by and called him Frankie Jupiter, a former WDBJ reporter. Carter said Visel then told him, "You're dead," and made a shooting motion toward Carter.
"I was frozen in fear," Carter told the newspaper. "This was the exact same road where Alison and Adam were shot."
WDBJ journalists Alison Parker and Adam Ward were killed Aug. 28 by a former co-worker while filming a news report.
Visel told Judge Randal Duncan during the hearing that he wanted to apologize to Carter. The Roanoke Times reported that Visel's criminal history includes trespassing and drug and alcohol convictions, and a pending assault charge.
Under the protective order Visel will not be allowed to own a gun or have contact with Carter for two years.