Donald Trump was met with boos from the conservative audience at the 2015 Values Voter Summit on Friday after he called Sen. Marco Rubio (R-Fla.) a "clown" during his speech.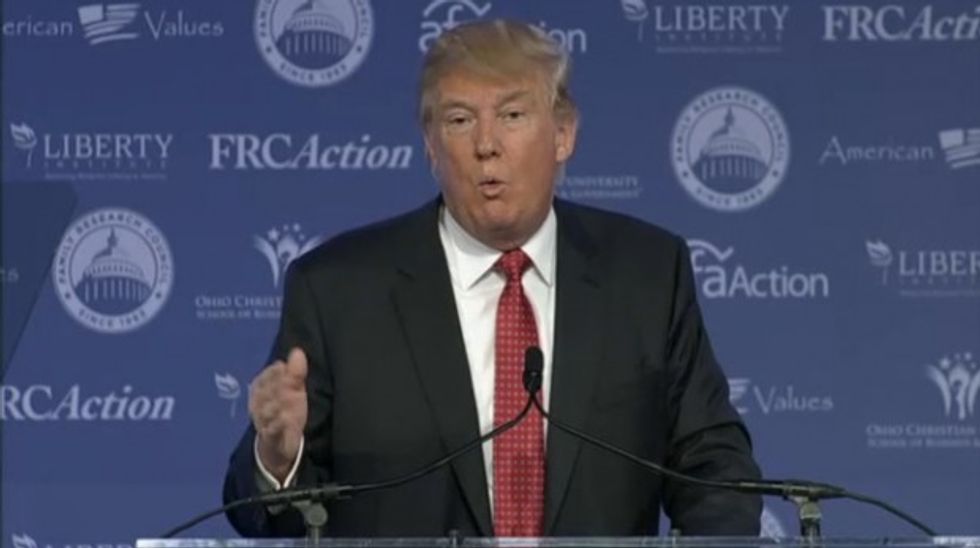 C-SPAN screengrab/TPM
Trump didn't get very far into his sentence before the boos started flying.
"You have this clown, Marco Rubio," Trump said to strong boos. "I've been so nice to him."
"He's in favor of immigration, he has been," Trump added, criticizing Rubio for being in the "Gang of Eight."
Politico has more on Trump's attack on Rubio before he even hit the stage:
Even before he took the stage, Trump was swinging at Rubio. The billionaire businessman was weaving his way through the hallways at the event, but he came to a full stop when asked about Rubio.

"I mean the guy doesn't show up. He's got the worst record in the entire United States Senate. And he's obviously not a very hard worker," Trump said in the hallways of the event, adding, "You know, when you get elected as a senator you have to show up and you have to be there and you have to vote and Rubio doesn't vote."
Rubio spoke a short time before his fellow GOP presidential candidate bashed him on the stage. Rubio caused the crowd to erupt in thunderous cheers and applause when he accounted that House Speaker John Boehner was resigning from Congress.
Watch the moment at 5:25 into Trump's speech below:
(H/T: Talking Points Memo)
This story has been updated.
---