It was an emotional night for Coach Dabo Swinney and his Clemson Tigers football team who had just beaten the No. 6 ranked Notre Dame Fighting Irish amid flooding rainfall courtesy of Hurricane Joaquin.
So it was no surprise that Swinney — beloved by Tiger Nation — gave an inspirational postgame interview in which he praised God, complimented his college football players and promised to do the "Whip and Nae Nae" dance later in the evening. But it was right at the height of his emotional speech that ABC's coverage cut him off.
"And thank you to the good Lord and my dad who was with me to—," Swinney said before the footage cut to an awkward shot of ESPN SportsCenter's Kevin Connors and Jay Harris — neither of whom appeared to realize they were live, noted SB Nation, a sports blog that called Swinney's postgame interview a "sermon."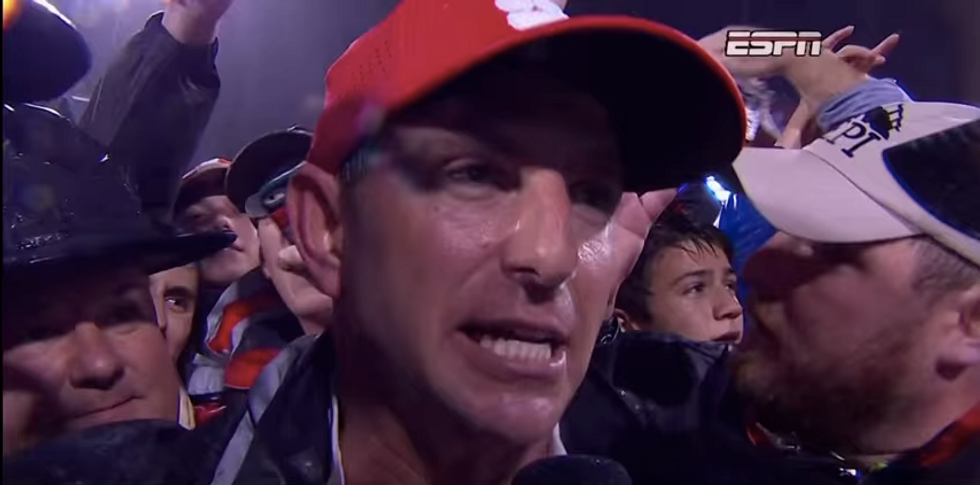 Image source: YouTube
After a few uncomfortable seconds, the footage cut back to Swinney's speech, just in time for him to promise, "we're going to do the 'Whip and Nae Nae tonight."
"I'm just happy they never quit, but again, great effort by Notre Dame," Swinney said. "But let me just tell you — rain, sleet or snow, Tiger Nation, they show. And they were here tonight."
ESPN's Chris Fowler apologized for the "glitch" that caused the broadcast to shift away from Swinney in a tweet after the game early Sunday morning.
Apologies for glitch during Dabo Swinney's emotional postgame interview. Wrong button hit - interrupted his answer. Live TV

— Chris Fowler (@cbfowler) October 4, 2015
However, multiple people, including coaches at other schools, took to Twitter to criticize ESPN and ABC and contend that the network cut away because of Swinney's reference to the Lord. Swinney, a notorious Christian, has drawn ire from organizations such as the Freedom From Religion Foundation for purportedly blurring the line between church and state at the public university.
Anybody else notice how right as the Clemson coach was thanking the Lord, they cut away? #coincidence?

— Cory McGuire (@corymac87) October 4, 2015
Clemson coach always credits God in interviews, I noticed ABC quickly cut away tonight as soon as he says "..thank the good Lord"..wow

— Garrett DeLano (@GarrettDeLano) October 4, 2015
I'm sick & tired of ESPN & their agenda. Cut away from Clemson Coach just as he was thanking God. But can give a courage award to Bruce J?

— Steve Knight (@WCUCoachK) October 4, 2015
Real classy move @ABCNetwork (ESPN)Coach Dabo Swinney (Clemson) thanks the Lord u cut away to your 2 clueless SportCenter on iPads! Wow!

— Coach Bryon Lawhon (@BCCoachLawhon) October 4, 2015
ESPN should be embarrassed that they cut away from Clemson coach Dabo Swinney because he thanked God for the win. Absolutely unacceptable.

— David Hookstead (@dhookstead) October 4, 2015
Clemson, ranked No. 12 beat the Irish 24 to 22 despite a last-minute surge by Notre Dame. The game, selected as ESPN's College GameDay, had no shortage of fans or notoriously clever signs. 
Watch the postgame interview, including the interruption, below.