Rep. Jason Chaffetz (R-Utah) said Tuesday he "overreached" in stripping a fellow Republican congressman from his subcommittee chairmanship as punishment for defying GOP leaders.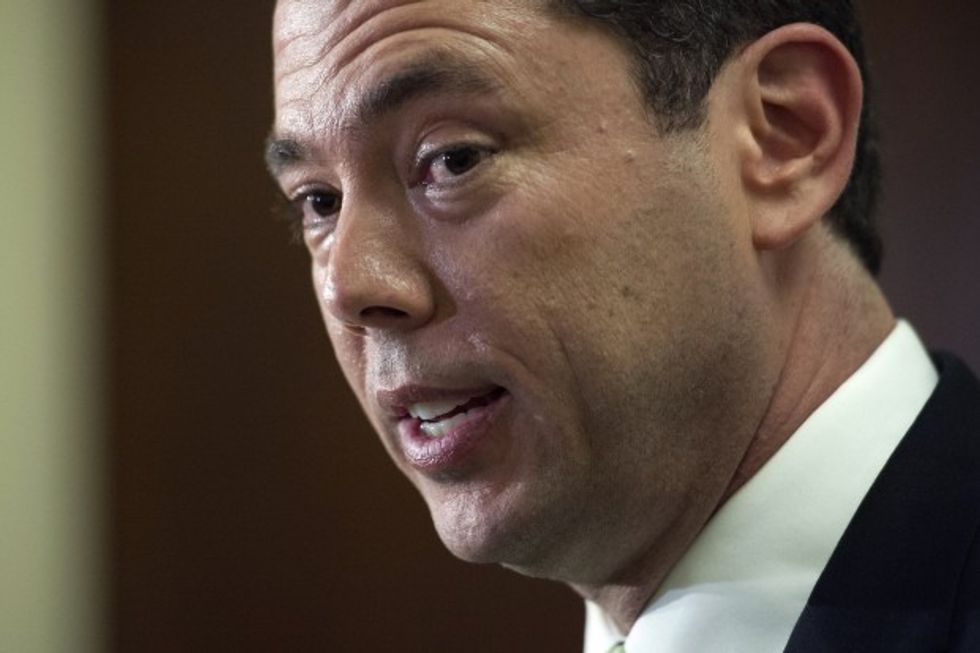 Committee on Oversight and Government Reform Rep. Jason Chaffetz (R-Utah) speaks with reporters, April 22, 2015. (AP Photo/Cliff Owen)
Chaffetz, the chairman of the House Oversight Committee, removed North Carolina Rep. Mark Meadows — no fan of House Speaker John Boehner — from his subcommittee post in June before reinstating him after other Republican members objected.
Chaffetz told Glenn Beck on his radio program that removing Meadows was about "some other things" as well, but didn't dispute that he punished him for standing against Boehner. Now, Chaffetz is one of three candidates running for House speaker, challenging Boehner-endorsed House Majority Leader Kevin McCarthy.
"I overreached," Chaffetz said. "And, you know what, we all make some mistakes. I would like to think as a leader, I was smart enough and humble enough to listen to my committee members who thought I was too harsh. And it was a good lesson for me, that you're not going to build unity and move the ball forward by breaking knuckles. I overreached. And I shouldn't have done it. And I recognized it. And we reimplemented him a few days later."
Chaffetz said he and Meadows have a "good working relationship," and insisted that he never spoke to Boehner or his staff about the decision.
"You learn that lesson," Chaffetz said of the Meadows incident. "And partly, it was listening to the 25 — we have 25 members on my committee. … Most of them came in. We sat down, and we talked for an hour and 40 minutes. And it was very healthy. And I said, 'All right. Let me sleep on it. I believe in prayer.' And I prayed about it. And I came back out of that and thought, 'You know what, darn it. I overdid myself. And I shouldn't have done that.' And I announced the next day that I would make the change back. They were right. I was wrong."
Complimentary Clip From TheBlaze TV
[mlbvideo content_id="519974983"]
The full episode of The Glenn Beck Program, along with many other live-streaming shows and thousands of hours of on-demand content, is available on just about any digital device. Click here to watch every Glenn Beck episode from the past 30 days for just $1!