Since Russia's air campaign began last week, at least three U.S. predator drones have been intercepted by Russian fighter jets, according to U.S. officials.
Fox News reported that the interceptions occurred over Islamic State-controlled parts of Syria as well as along the Turkish-Syrian border.
"The first time it happened, we thought the Russians got lucky," a U.S. official told Fox News. "Then it happened two more times."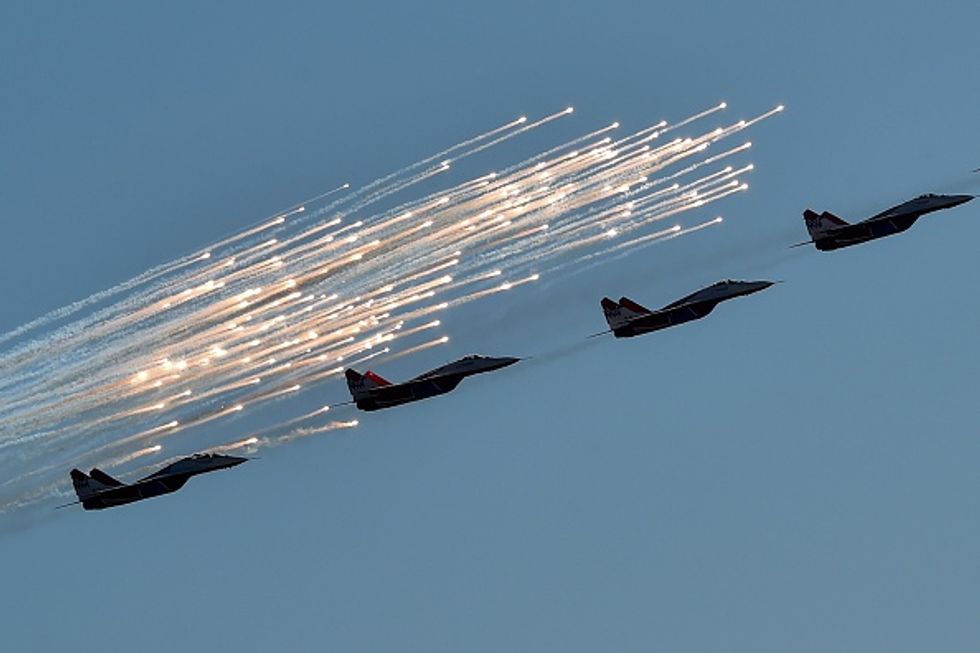 Russian aerobatic group Strizhi performs during the MAKS-2015, the International Aviation and Space Show, in Zhukovsky, outside Moscow, Aug. 25, 2015. (Kirill Kudryavtsev/AFP/Getty Images)
Fox News reported that the Russians have not attempted to shoot down any of the drones but have instead flown intercept tracks, meaning they were close enough to the drones to make their presence known.
A U.S. official said that the predator drones are not stealth aircraft and can be easily detected on a radar.
Recently, the Russians moved some of their Mi-24 gunships and transport helicopters from one airbase in the Mediterranean to another base near Homs approximately 100 miles away. Russian ground troops, marines, rocket launchers, mines and explosive warheads are within position to strike against anti-Assad forces as the Russians continue to form a "protective belt" around the Assad regime's Latakia.
The Pentagon has said that the vast majority of strikes from Russia's operating base at Bassel al-Assad airport have been against Syrian opposition forces, not the Islamic State.
Turkish officials have said that Russia violated its airspace on at least two separate occasions over the weekend.
"The Russians flew along the border, and we still don't know for sure what happened," a U.S. official told Fox News.
(H/T: Fox News)