Sen. Rand Paul (R-Ky.) will embark on an extensive college tour in Iowa Monday, visiting 11 college campus in three days with the goal of recruiting 10,000 students to caucus for him in February.
In 2012, Ron Paul came in third in the Iowa Caucus, losing by 3800 votes. This time around, colleges and universities will be in session during the caucus, a key factor the Paul campaign hopes to take advantage of with its "Iowa 10,000" college tour.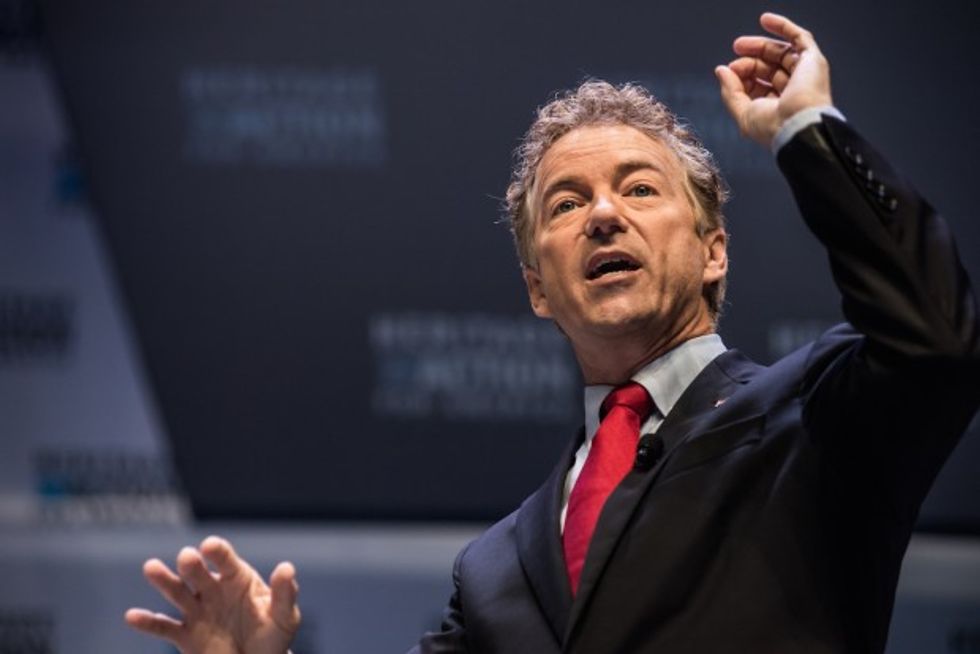 Sean Rayford/Getty Images
Speaking to TheBlaze by phone, the Kentucky senator said his message resonates particularly well with young people.
"We think we have a strength with the younger voters and most of the polling data has shown we probably do better than anybody else with younger and more independent voters," Paul said. "I think the reason for that is that I've been one who has stood up on the right to privacy, the right to be left alone, the right not to have the government collect all your phone records."
[sharequote align="right"]"We think we have a strength with the younger voters..."[/sharequote]
"And I think young people naturally gravitate to that position because young people their life is sort of ordered around and goes through their phone. They are not to excited about the government collecting their phone records," he added. 
Paul also touted his efforts to reform the criminal justice system as something that appeals to a younger audience.
"Young people are particularly tuned for that and aware of the hypocrisy of particularly wealthy elite people who admit they smoked pot in high school, and yet are still in favor of laws that would put people in jail," he said. "There is also awareness that the drug laws really have ended up putting people of color in jail at a much more disproportionate amount compared to white kids and I think there is a lot of college age kids in favor of reforming the criminal justice laws."
Paul also took a shot at college campuses that mandate students either obtain a permit to exercise their First Amendment rights or do so inside specific "free speech zones." In recent months, students on various college campuses have been confronted by law enforcement for not obeying such rules.
"I think it's crazy to limit speech," Paul said. "And college is the time most of us remember fondly is the time when you heard a lot of ideas — right, left, center, up, down — you know, you heard a lot."
"I actually think it's funny and ironic that the left is the one erecting these free speech zones that they are all for the tolerance of ideas, until some of the ideas they might object to," the senator added. "It is amazing sort of the intolerance for freedom of speech. Because really that's sort of the tough time about the First Amendment is acknowledging it will allow speech you object to."
Paul will begin his  college tour Monday and is scheduled to visit Coe College, Cornell College, the University of Iowa, St. Ambrose University, Loras College, Upper Iowa University, Warburg College, the University of Northern Iowa, Morningside College, Buena Vista University and Drake University.
At each event, Paul will deliver a stump speech targeted toward young people. Some of the stops will also include a question and answer session.
—
Follow the author of this story on Twitter and Facebook: