Atheists are suing an Indiana school district over a live nativity that is a staple in an annual high school Christmas show, calling the scene a "coercive" representation of an "endorsement of religion" and seeking its removal.
An unnamed high school student and his parent joined the Freedom From Religion Foundation, an atheist activist group, and the American Civil Liberties Union, in waging a complaint against Concord Community Schools in Elkhart, Indiana, that takes direct aim at the live nativity scene, USA Today reported.
The 20-minute scene has been a part of a predominately secular Christmas production in the district for 30 years, but atheists believe that it poses a constitutional conundrum — one that they're taking to the courts in an effort to seek its mandated removal.
Watch last year's performance below (the nativity scene appears around the 1:20 mark):
At the center of the debate is the fact that the annual Christmas Spectacular features Bible characters as well as readings from scripture about the birth of Jesus Christ — something that opposing individuals and groups are calling unconstitutional, the Elkhart Truth reported.  
"The Nativity scene and the story of the birth of Jesus are, of course, well-recognized symbols of the Christian faith," the complaint reads. "Their presence at the Christmas Spectacular is coercive, represents an endorsement of religion by the high school and the school corporation, has no secular purpose and has the principal purpose and effect of advancing religion."
The unnamed student at the center of the dispute is reportedly a member of the school choir and is slated to perform in the district's 2015 Christmas Spectacular during the upcoming holiday season.
The plaintiffs are each seeking one dollar as well as the cost of legal fees, according to USA Today.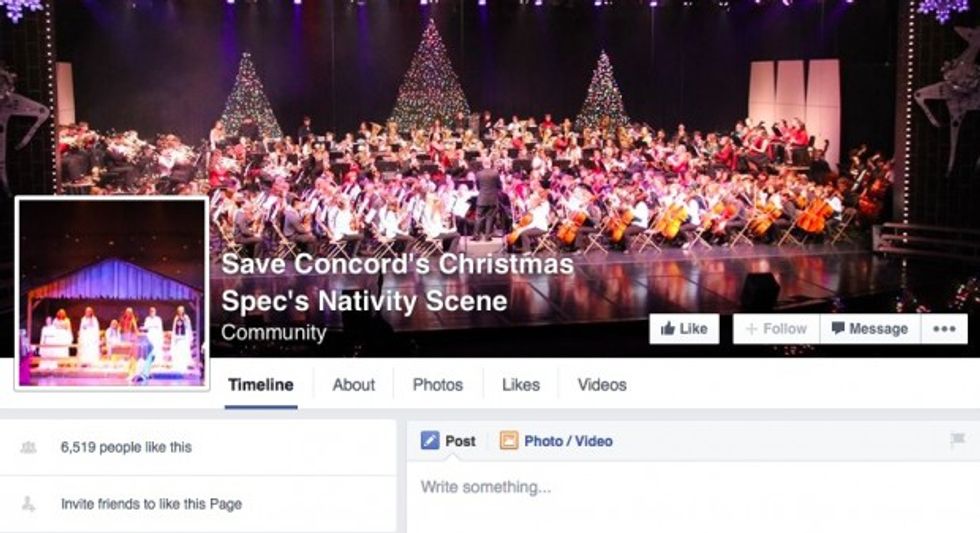 A screen shot of a Facebook page setup to support the nativity
The Freedom From Religion Foundation had previously reached out to Concord Community Schools superintendent John Trout in August to address the matter, but Trout has defended the district's three-decade old tradition and shows no signs of backing down.
"That is not accurate statement of the law," Trout said at a September 8 school board meeting of the plaintiffs' arguments against the nativity. "As always, if a student or parent finds objectionable any portion of the Spectacular, or any school assignment for that matter, that student is free to opt out of the performance or assignment."
More than 6,500 people have "liked" a Facebook page set up to help save the nativity scene from being removed from the show.
(H/T: USA Today)
Follow the author of this story on Twitter and Facebook: