Republican presidential contender Sen. Rand Paul won the Republican Liberty Caucus straw poll Saturday night and made sure fellow candidate Sen. Ted Cruz knew it.
The Kentucky senator was the preferred candidate with 57.1 percent approval from nearly 800 libertarian-leaning activists who attended the national convention.
"Liberty unites people, and I am honored to win the Republican Liberty Caucus straw poll," the libertarian-leaning candidate said in a statement after his win. "I will continue to represent the Liberty wing of the Republican party by campaigning on bold, conservative principles like balancing the budget, restraining the powers of the federal government, and passing term limits to get rid of the career politicians in both parties."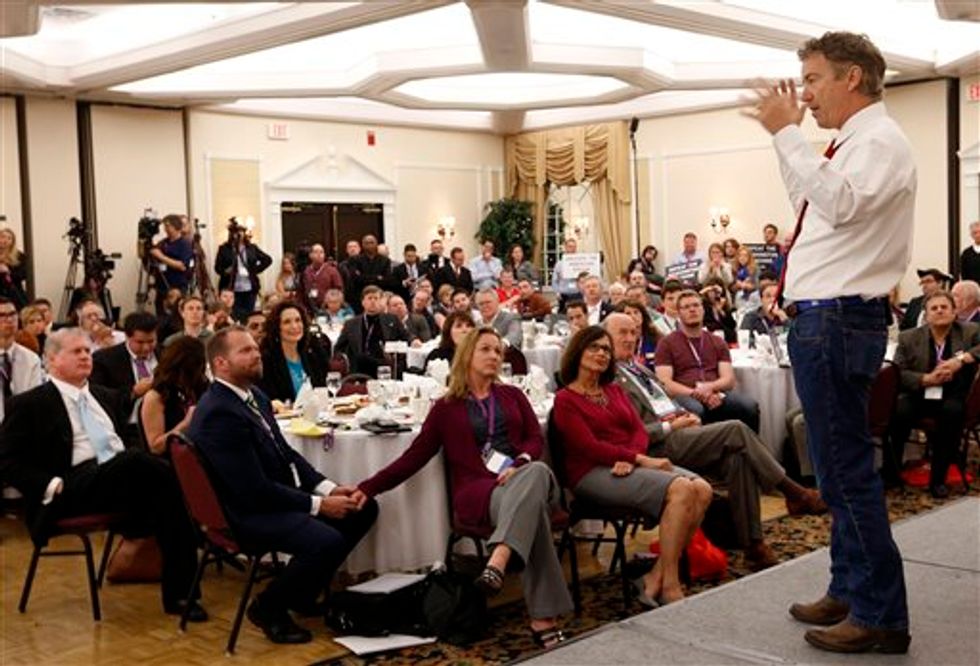 Republican presidential candidate Sen. Rand Paul, R-Ky., speaks during a campaign stop at the Republican Liberty Caucus Friday, Oct. 9, 2015, in Nashua, N.H. (AP Photo/Jim Cole)
In a press release announcing the straw poll victory, Paul's campaign took a jab at Cruz for spending a "substantial amount of time, money, and resources to actively sway voters at the RLC Convention, yet the liberty movement continues to unite behind Rand Paul."
"Unlike Sen. Cruz, Rand Paul has consistently voted against raising spending and is the only candidate fighting to protect the entire Bill of Rights," Paul's campaign said, differentiating him from the Texas senator.
In their own statement after the results, Cruz's campaign touted his tally of 51.2 percent as gaining "momentum among libertarian voters" but called the loss to Paul a "major upset among libertarian voters."
"We are very encouraged by the growing support we are seeing among liberty voters in the early states and across the country," Cruz said. "I have spent my career defending and promoting the constitutional liberties that our nation was founded upon, and that are increasingly under assault today."
"If elected president, libertarian voters across the country can be confident that I will stand for the U.S. Constitution at every turn," he said.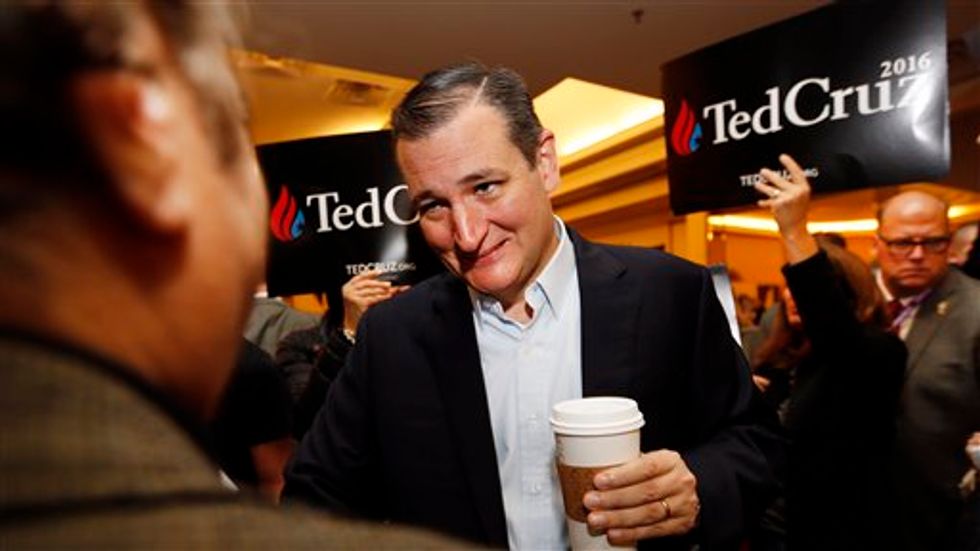 Republican presidential candidate, Sen. Ted Cruz, R-Texas, greets voters during a campaign stop at the Republican Liberty Caucus, Friday, Oct. 9, 2015, in Nashua, N.H. (AP Photo/Jim Cole)
The RLC said both Paul and Cruz actively campaigned for the straw poll in an effort to "test and show their organizational strength and level of committed activist willing to come out and vote."
"The large turnout for this event and the enthusiastic participation of attendees in this poll shows the rising tide of Liberty in the Republican Party," Matt Nye, National Chairman of the RLC, said in a statement. "Liberty Republicans have clearly identified these two candidates as the best in a crowded field. They are an inspiration to Republicans around the country and we look forward to a great crop of candidates at every level, ready to go to Washington and restore limited government and a respect for individual liberty."
Following behind the two men who both spoke at the convention were Ben Carson with 17.9 percent, Carly Fiorina with 10.1 percent, Florida Sen. Marco Rubio with 9.6 percent, Donald Trump with 6.9 percent and Louisiana Gov. Bobby Jindal with 6.6 percent.
Thanks to everyone who supported me this weekend at the Republican Liberty Caucus National Conv. We won the straw poll! Onwards to victory!

— Dr. Rand Paul (@RandPaul) October 11, 2015