Alcatraz prison officials have consistently kept the mantra "no successful escapees ever," but family members of two of the three men who escaped in 1962 are claiming otherwise.
When the three men escaped via a makeshift raft in the San Francisco Bay more than 50 years ago, prison officials said the men drowned in the waters. John and Clarence Anglin, two brothers who burgled banks in Georgia, had attempted to escape a state penitentiary before being sent to Alcatraz. With fellow inmate Frank Morris at the island prison, they made a raft out of stolen raincoats and created dummy heads out of papier-mâché and human hair, which they stuck in their prison beds as decoys.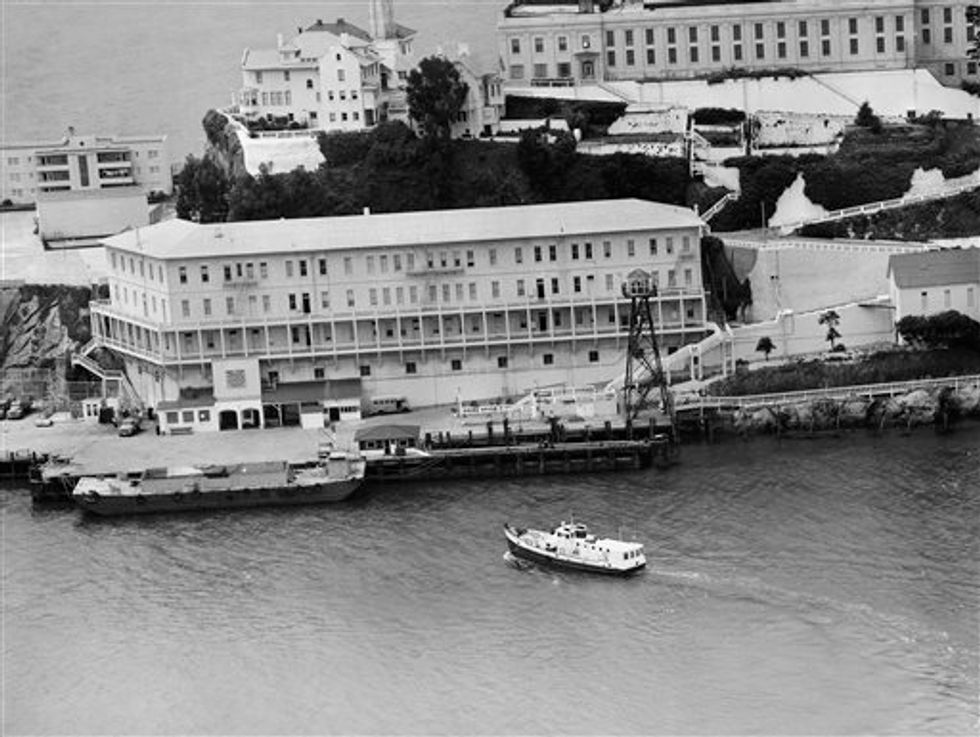 In this June 12, 1962, file photo, Alcatraz Federal Penitentiary in San Francisco Bay is shown the day three prisoners escaped. The men crawled through holes they'd cut in their cell walls, climbed to the roof and left on a raft fashioned from prison raincoats and rubber cement. They were never found; officials surmised they may have drowned before reaching shore. (AP Photo/File)
But now the Anglins' family members are saying that the three men might not have died in the bay after all and may even be alive today.
According to WJW-TV, two nephews of the Anglin brothers have come forward with Christmas cards, photographs and other alleged evidence that they were alive during the 1970s and could possibly be living in South America. The nephews will present their evidence during a new History Channel special, "Alcatraz: Search for the Truth," which airs Monday night.
The nephews said they waited this long to come forward with their claim because Federal Bureau of Investigation officials had kept a close eye on their family and had "harassed" family members in order to find out where the three men went — if they did, indeed, survive. However, they said they hope to find their uncles soon before their mother, the Anglins' sister, dies.
If the two brothers are still alive, they would be in their 80s.